Synthetic Turf Northwest has been the Seattle and Puget Sound area's leader in residential artificial lawns and turfs for over 20 years. We carry top-quality American-made and imported synthetic grass products and provide industry-leading artificial lawn installation and design work. You will never be disappointed with our artificial turf installation.
As a locally owned and operated company, we are proud to share local references and even let you go see our synthetic grass installation work. Our superior turf products are unparalleled in quality and provide a residential turf that is easily maintained, with year-round beauty and usability.
Synthetic Turf Northwest does artificial turf installation throughout Seattle and the surrounding area. We install artificial lawns in both residential and commercial settings. Whether your artificial grass installation will be used for play, pets, or visual appeal we provide artificial grass installers that are second to none.
If you are considering an artificial lawn or turf for your home, give us a call or fill out our contact form. Whether you're in Marysville, Kent, Sammamish, or Mercer Island, we look forward to discussing your artificial lawn installation project.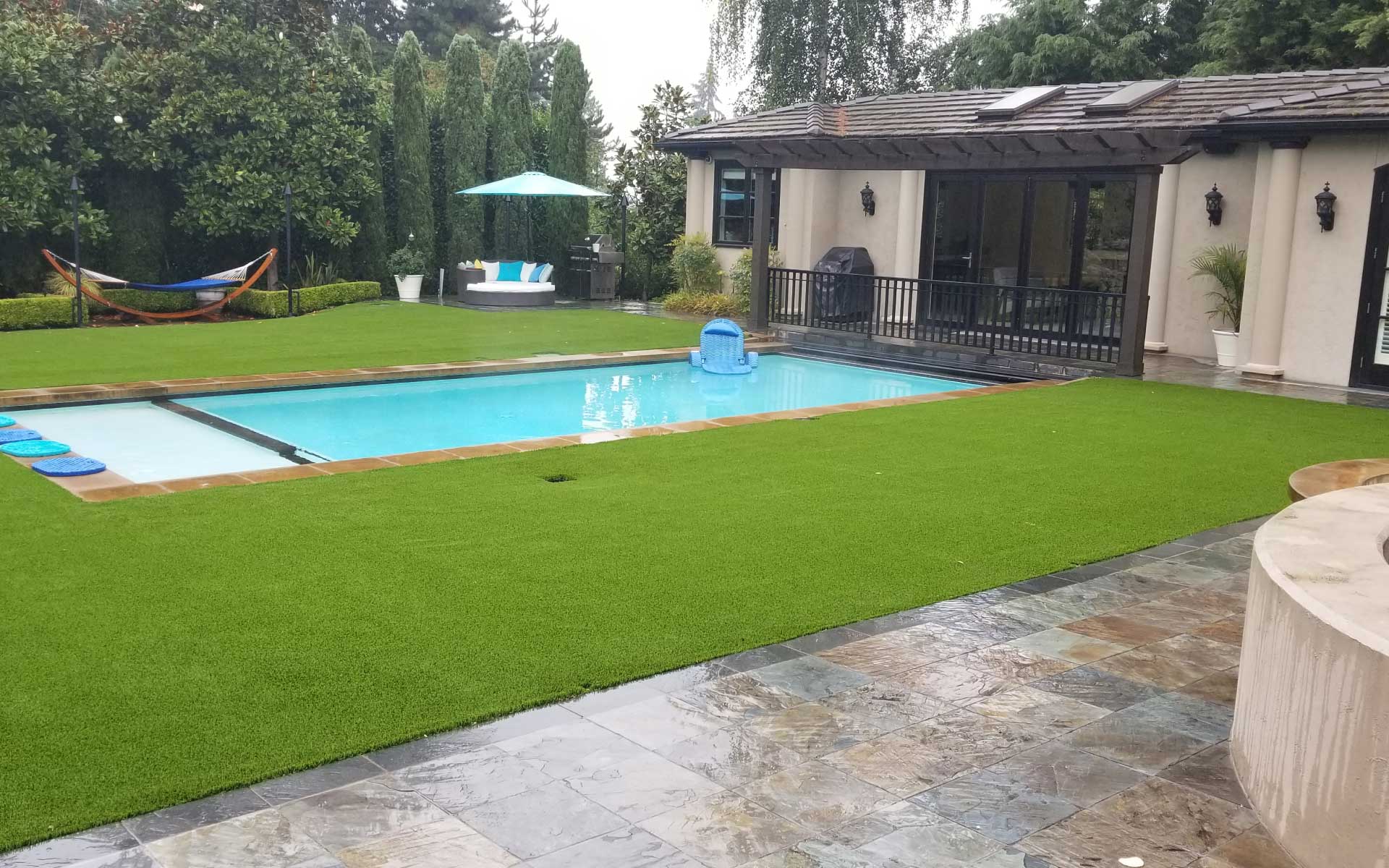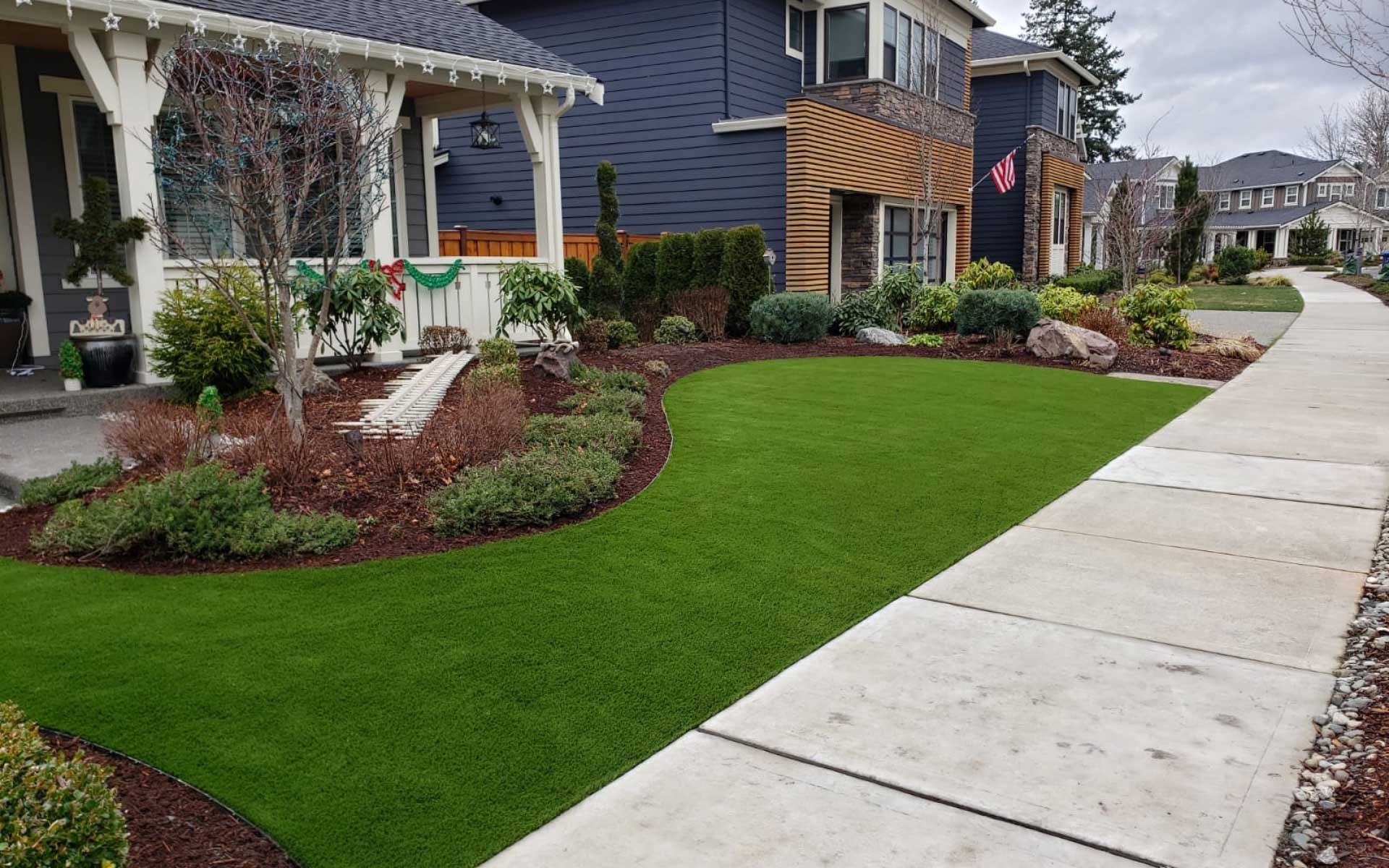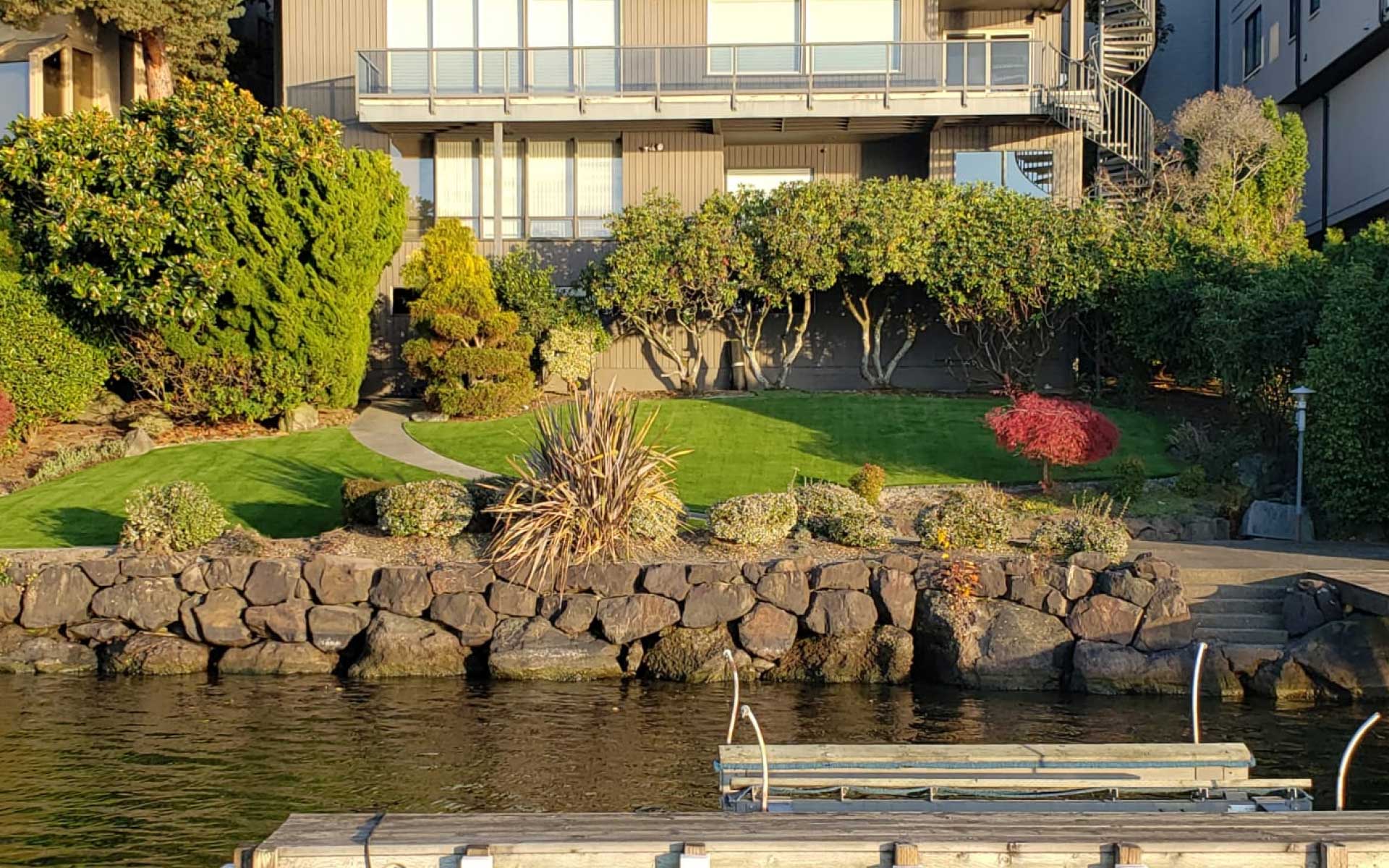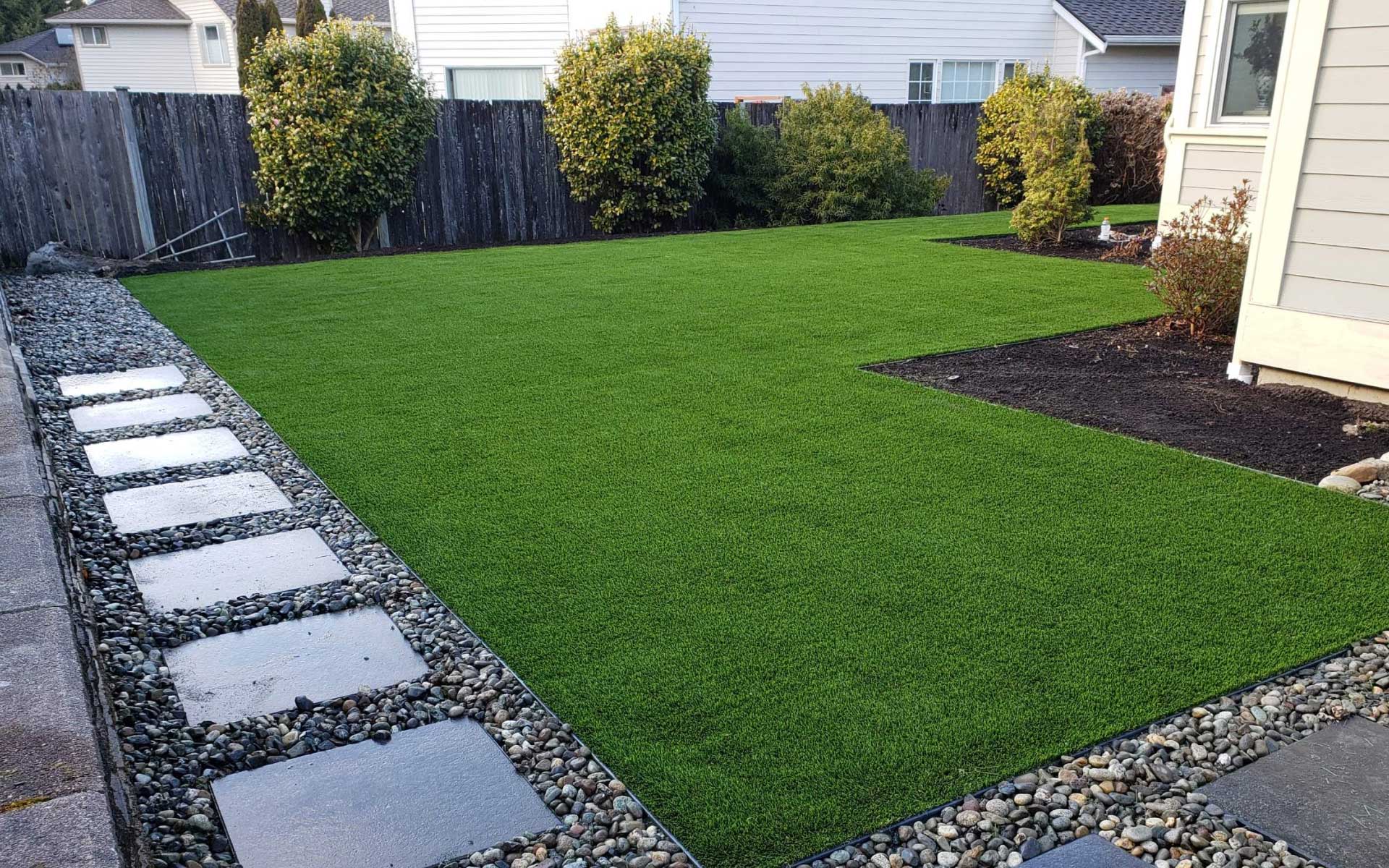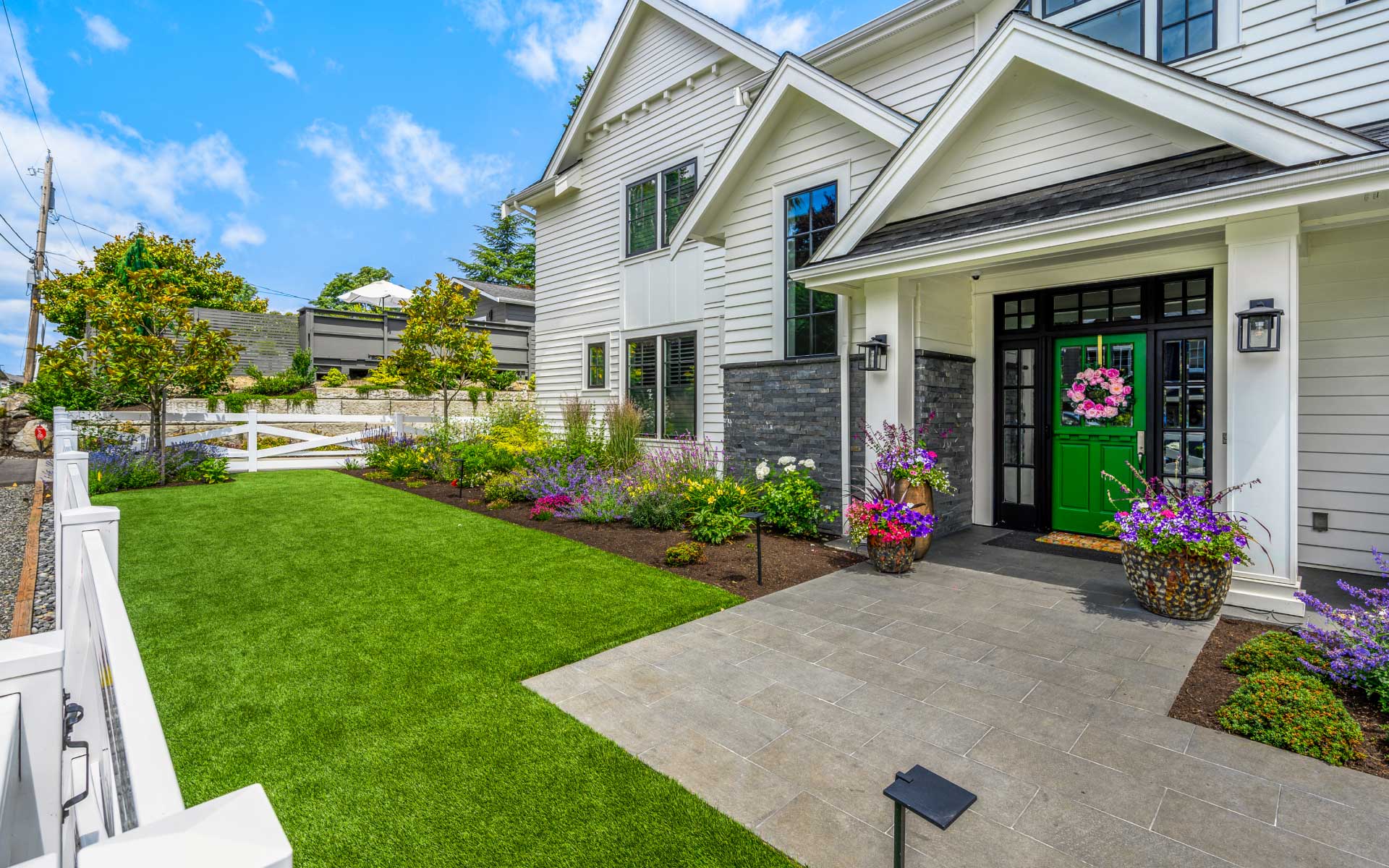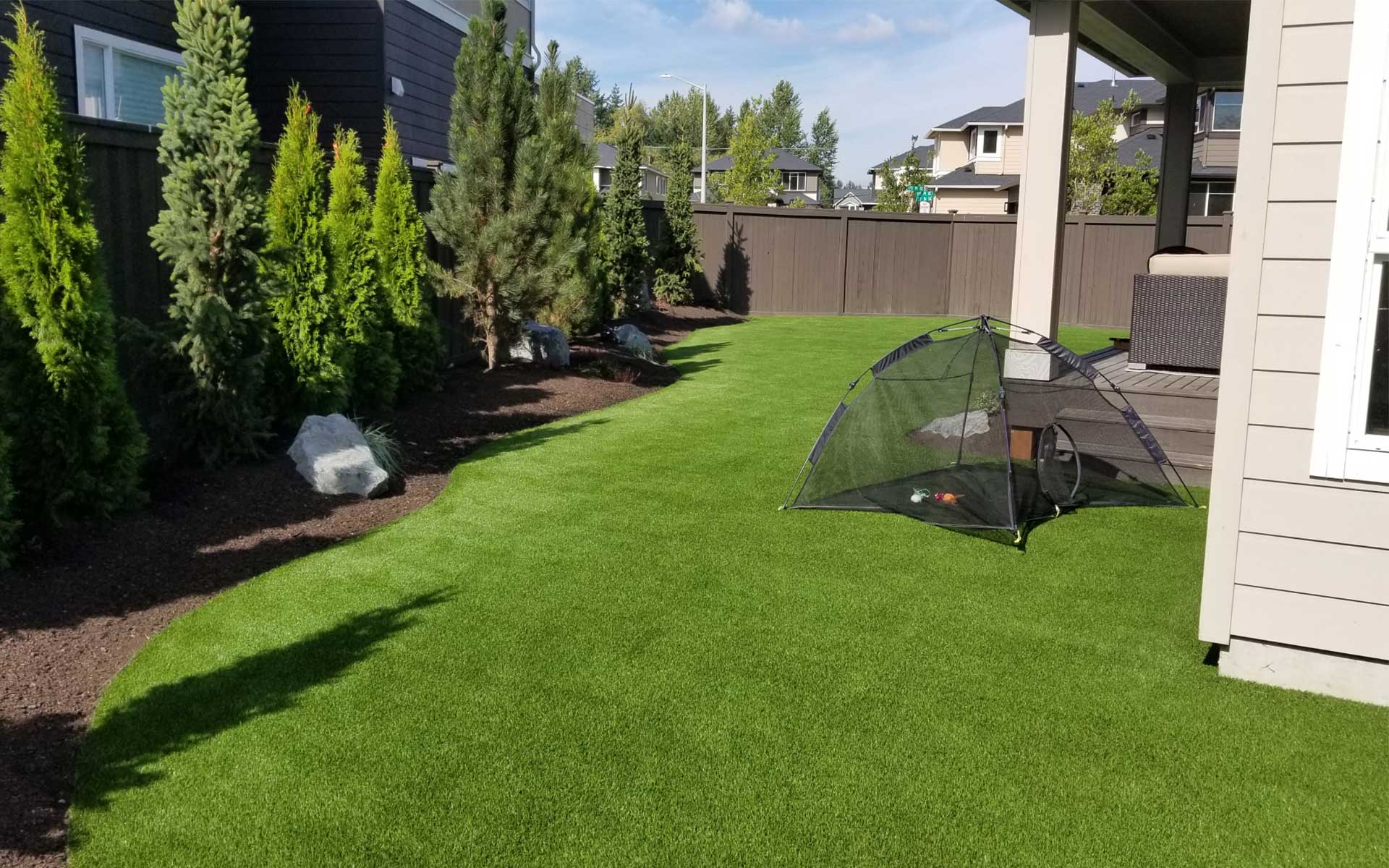 Key Benefits of the Artificial Grass Installation Service
As your local artificial grass installation expert for so many years, we have loved seeing the many ways our Washington State customers have benefited from the installation of artificial lawns and grass. The artificial grass installers at Synthetic Turf have the expertise and knowledge to help you plan out the perfect synthetic turf installation. Here are just a few of the advantages you can experience when choosing synthetic turf for your home or business:
Significant savings in water costs
No more mowing!
Environmentally friendly: No fertilizer, no pesticides.
Pet-Friendly and anti-microbial
A variety of applications
Artificial grass lawn installation ranges from $12 – $25 per square foot. Pricing is determined by the size and scope of the project, the type of turf and other factors specific to each site. Learn more about the cost of synthetic turf installation.
Artificial grass products from Synthetic Turf Northwest come with a 10-year manufacturer's warranty. Our turf is UV color protected, so it stays life-like and lasts for years. We offer a 5-year warranty on our installation services. See our Care & Repair page for more details about our synthetic turf warranty.
Service Areas in Washington
We have installed artificial turf in virtually all cities throughout the Puget Sound region and Washington State. We have the best artificial grass installers in the area. From AstroTurf to artificial turf installation, we have worked on residential projects in:
Seattle
Bellevue
Redmond
Kirkland
Sammamish
Bothell
Everett
And just about any city in between
Interested In This Service?
Why You Need Artificial Turf Installation in Seattle
Seattle lacks the ideal conditions you need for a lush green natural lawn. It receives a substantial amount of rain each year (160 days with rain or snow) and has a precipitous climate.
For these reasons, residents of Seattle and surrounding areas come to Synthetic Turf to buy and have artificial grass installed. The conditions in the area make it a perfect candidate for synthetic turf installation.
Professional Artificial Lawn Installation
You can certainly install an artificial lawn yourself, but this carries many caveats. Firstly, it's a very labor- and time-intensive job. Synthetic grass installation is not an easy task. Not everyone has the time or energy to install an artificial lawn.
Then there's the issue of having the residential turf expertise. Synthetic lawn installation is a highly measured process. You have to make sure that your newly installed lawn is:
Flat to the ground with no bumps
Impervious to weed growth
Has a sufficiently capable drainage system
Is level with surrounding areas (to avoid tripping hazards)
These considerations in synthetic lawn installation require extremely well-thought execution, something only experienced residential turf professionals can ensure.
Installation for a Variety of Artificial Turf Applications
The Synthetic Turf crew is trained and experienced in carrying out artificial grass installations for a variety of applications.
We understand that different synthetic turf installation projects require a different approach to installation, as well as to the materials used in it.
Artificial Turf Installation for Sports Fields
Durability and grip are important factors to consider for sports fields, and Synthetic Turf is well-equipped to handle such projects.
We use artificial turf that is specifically designed to withstand heavy foot traffic, while providing ample levels of grip so athletes can perform at their best. Our artificial turf installation can withstand the most challenging conditions!
Artificial turf carries the inherent benefit of being mud-free even in rainy conditions, so schools and sports facilities can practice and play no matter the time of year.
Pet Turf Installation
Odor-resistance and easy washability are the qualities to look for in pet-friendly turf. Synthetic Turf Northwest produces pet turf that is soft but designed to withstand the wear and tear that dogs can create. Our artificial grass installers are experts in pet-friendly synthetic turf installation.
Our pet turf installation allows pet owners to let their four-legged companions roam and play freely on lush green turf, with no worries about odor or waste. The right artificial grass installation will be a beautiful addition to your home and fun for your pets!
We carry artificial turf that is completely safe for pets. Guaranteed!
Putting Green Installation
Golf enthusiasts can enjoy practicing their strokes in their backyard thanks to our professional putting green installation services that replicate the feel of a world-class golf course. You will have many weekends enjoying our beautiful synthetic grass installation.
Artificial putting green does not need to be mowed, watered or fertilized, so you can focus on improving your golf game without worrying where you'll do it. There are so many benefits to having a residential turf!
Our backyard is complete and the difference is SHOCKING. I don't know how they do it, but it TRULY does not have the look or feel of an imitation product.…
We love how the yard looks and a few of our neighbors who saw them working wanted to come by and take a look, and were impressed by how real…
We had a swampy back yard replaced with turf and couldn't be happier. Kids love it and the dog goes outside in all weather. The team communicated with us during…
We are so incredibly pleased with our new backyard! They were very meticulous, professional, and responsive! Thank you Rob and crew for the fantastic transformation! We couldn't be happier!
Rebecca Meckler
FEBRUARY 20, 2021
Synthetic Turf Northwest did a phenomenal job installing synthetic turf in our backyard. The entire process was smooth, and their team's attention to detail was top notch. We are blown…
Adam Trumbower
APRIL 2, 2021
Installation (and clean-up) went great. We are very happy with the finished product … our yard looks terrific. Special thanks to Josh (installer) and Jane (front office) for focus on…
Mark Freeman
AUGUST 4, 2021
Our yard used to be a soggy, muddy mess when it rained. Not anymore! We love our new Synthetic lawn. Now we can enjoy our yard year round. We should…