Pro Series Putt Turf
From large-scale commercial installations to smaller greens for your home, Synthetic Turf Northwest offers synthetic golf greens in Seattle of incredible quality and durability. You don't have to water or mow our putting green – just imagine the time and money you'll save in the long run. Pesticides and fertilizers are a thing of the past, as well. When it comes to synthetic golf greens, our Pro Series Golf Green Turf is exactly what you're looking for.
Color – Pro Natural
Antimicrobial
Bounce back yarn design
10-year warranty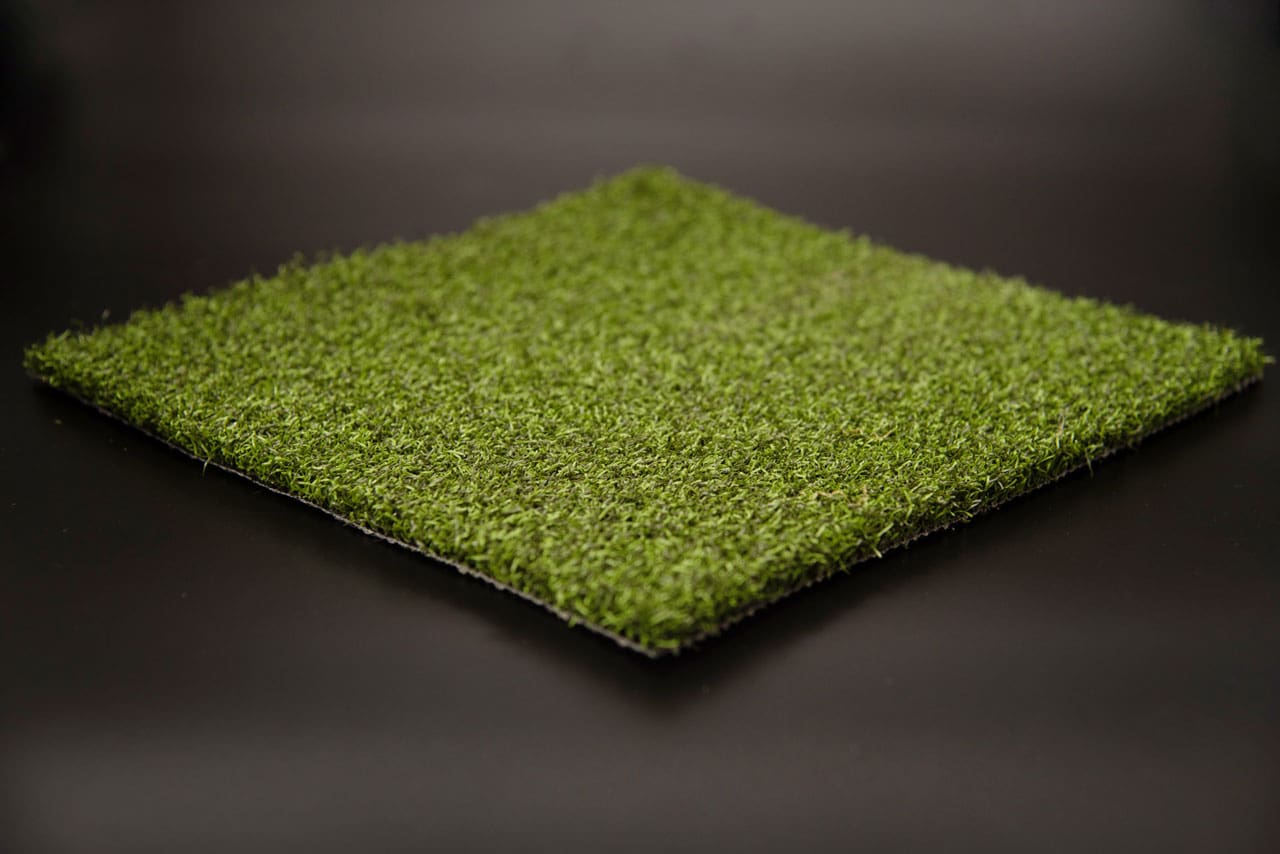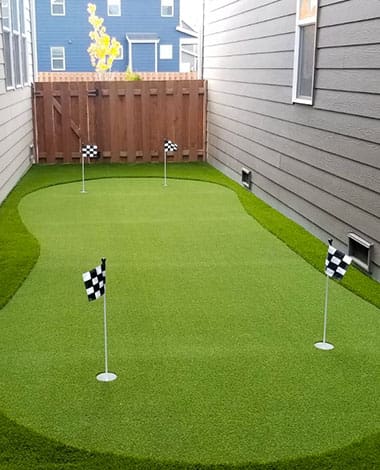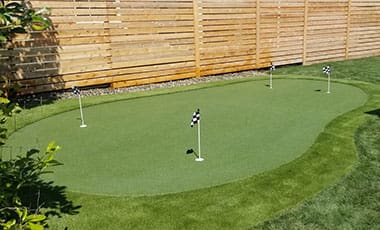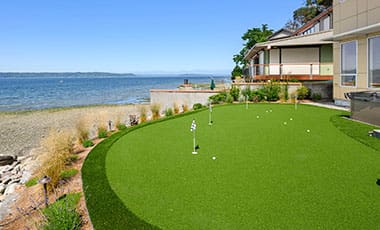 Click here to learn more about our artificial green installation services in the Seattle area.
Product Specifications
Synthetic Turf Pro Series Golf Green Turfs are the finest short pile and deep sand fill turfs in the world. If you can dream it, we will build it.
For the serious golfer or a fun, elegant addition to your home, our artificial grass golf greens in Seattle are the perfect solution.
Professional Grade Golf Putting Green Turf
Synthetic Turf's Pro Series Golf Greens turf is a short pile turf that is an ideal choice for varying golf putting green installations.
It is equally well suited to the demands of commercial putting greens as it is for backyard putting greens. We believe every enthusiast or budding golfer should experience the same high quality putting green.
Our putting turf is always ready for action – you don't have to worry about changing weather conditions.
Engineered to give consistent performance even in high foot traffic areas, our golf putting green turf is relied on by golfers all over Seattle.
Key Benefits of Using Pro Series Golf Greens
Our Pro Series Golf Greens customers love the look, feel and sheer convenience of this high quality turf.
Some of the key benefits of using our synthetic turf products are:
Durability
A putting green is an investment, and our highly durable turf ensures that you don't have to worry about deterioration or inconsistent performance.
We provide a 10-year warranty with this product so you can putt and play with complete peace of mind.
Lower Water Costs
Natural grass putting greens cost a significant amount in water costs. Natural grass is a living breathing thing, and it needs lots of water to survive.
Our synthetic turf has drastically lower water requirements. You'll need to hose it down occasionally for cleaning or maintenance.
No More Mowing!
Mowing can be a noisy and time-consuming activity, especially if you're doing it on a regular basis to keep your natural putting green in pristine condition.
Our Pro Series Golf Greens turf stays in the same perfect shape all year round, so you can spend more time on practising and of course, not worrying about mowing.
Environmentally Friendly
Unlike natural grass, our synthetic putting green does not require the use of environmentally-damaging products like herbicides, weed sprays or fertilizers.
It will look as lush green as the day you bought it for years to come.
Pet-Friendly and Antimicrobial
Our synthetic turf is absolutely 100% lead free and safe for use by pets. It also incorporates an antimicrobial treatment for increased resistance to bacterial and mold growth.
Great for Backyards
Backyards differ from professional putting greens in that they can be high foot traffic areas, with frequent use from pets as well.
Our putting green turf is highly durable and can withstand backyard levels of foot traffic. For budding and experienced golfers alike, this turf provides a highly convenient way to improve their short game.
No More Maintenance Pains
Pro Series Golf Greens turf is engineered to require as little maintenance as possible. Its fibers have special antimicrobial treatment so you don't have to worry about mold or mildew growth.
It's easy to clean, requiring just a hose-down at most if you feel the need for cleaning it.
With its low maintenance requirements, you aren't wasting a precious resource like water, as you would have to with natural grass.
Fertilizers, weed sprays and herbicides are also a thing of the past, so there's no need to get your hands dirty.
And instead of spending your energy on precisely mowing your putting green every week, you can focus on perfecting your putt.
Synthetic Putting Green Turf Product Specifications
Faceweight
Available in 40, 44 and 50 ounce face weights
Rarely am I blown away by great service. This company knows how to provide it. Oh, and the end result of the product that looks awesome…. My short game is…
I transformed my dingy backyard to their high grade synthetic turf, and I like that it's very low maintenance and a beautiful green all year round. I can work on…