Synthetic Turf Northwest has the perfect artificial grass if you've got kids playing around your synthetic lawn or garden. It's inevitable that kids will either fall down or just play on the ground, so you have to make sure the artificial grass used doesn't harm them.
Our playground turf installations are soft and comfortable padding and infill that will ensure that your kids (or pets!) will be able to enjoy the space safely.
We choose speciality artificial turf materials for playgrounds that are softer and as a result safer than mulch, sand and even natural grass.
When it comes to our kids, safety is always a high priority. We're looking for safety features even when buying a simple play set. But have you considered the safety of the playground surface on where your kids spend a lot of time?
Traditional playground surfaces made from sand, gravel or even natural grass can be highly abrasive and injurious to children.
That's where Synthetic Turf's playground turf comes in. We understand that a playground should be a safe place for children to have fun. You should not have to worry about them ending up on the ground and harming themselves.
Synthetic Turf Northwest has devised and offers a complete system for playground and sports fields surfacing. It can be used with confidence in community play areas & sports fields, day care facilities, public parks and personal playgrounds or backyard lawns.
Our turf is especially well suited for low maintenance sports turf! The shock-absorbing abilities of an installed synthetic grass field mimic that of real grass. Apart from that, it's well drained so water will always find its way through – no more puddles, and no more slippery mud!
Our installation process for play turf is specialized and focused on making sure that the artificial grass is not only soft and comfortable to walk on, but can cushion falls from above-normal heights.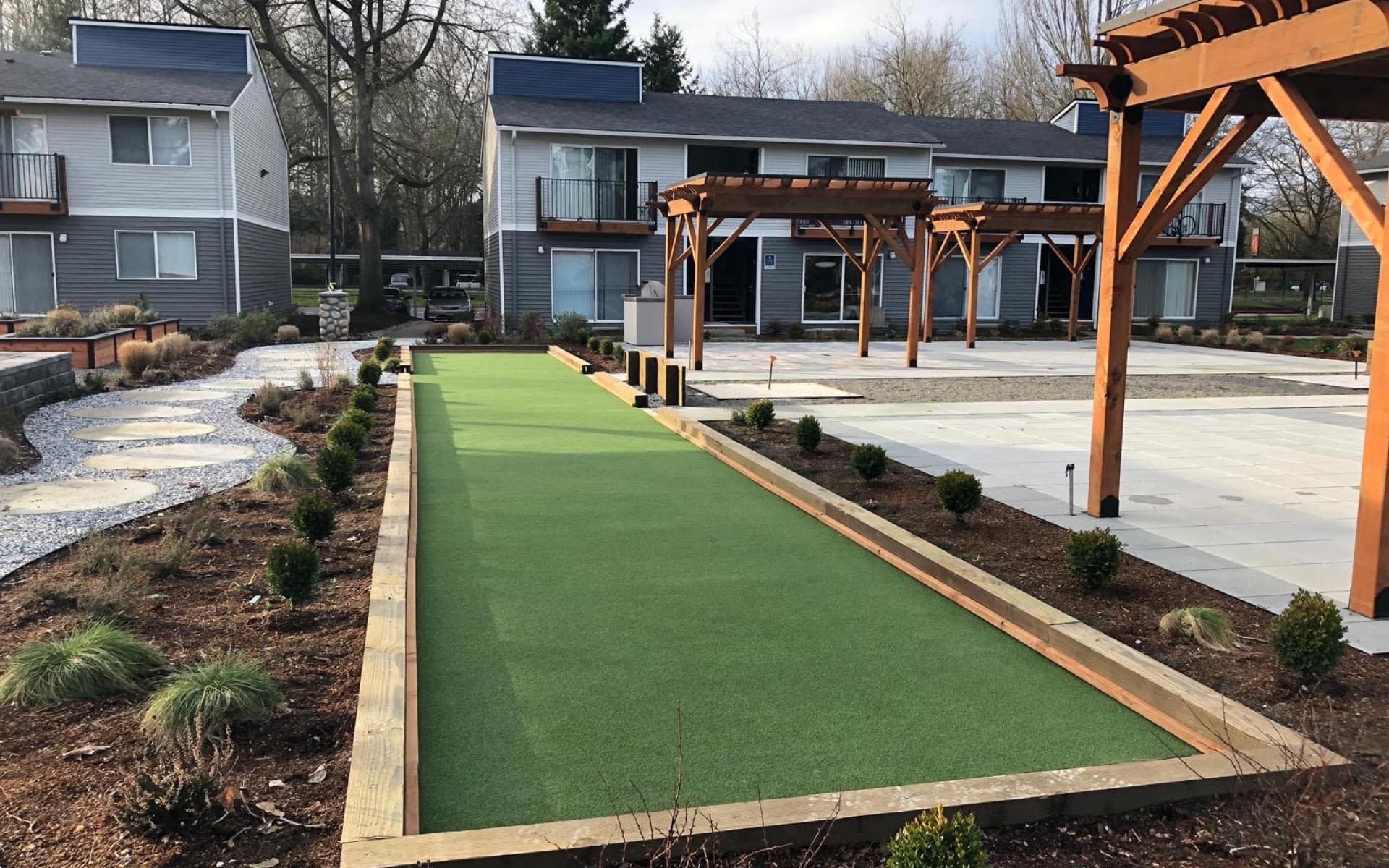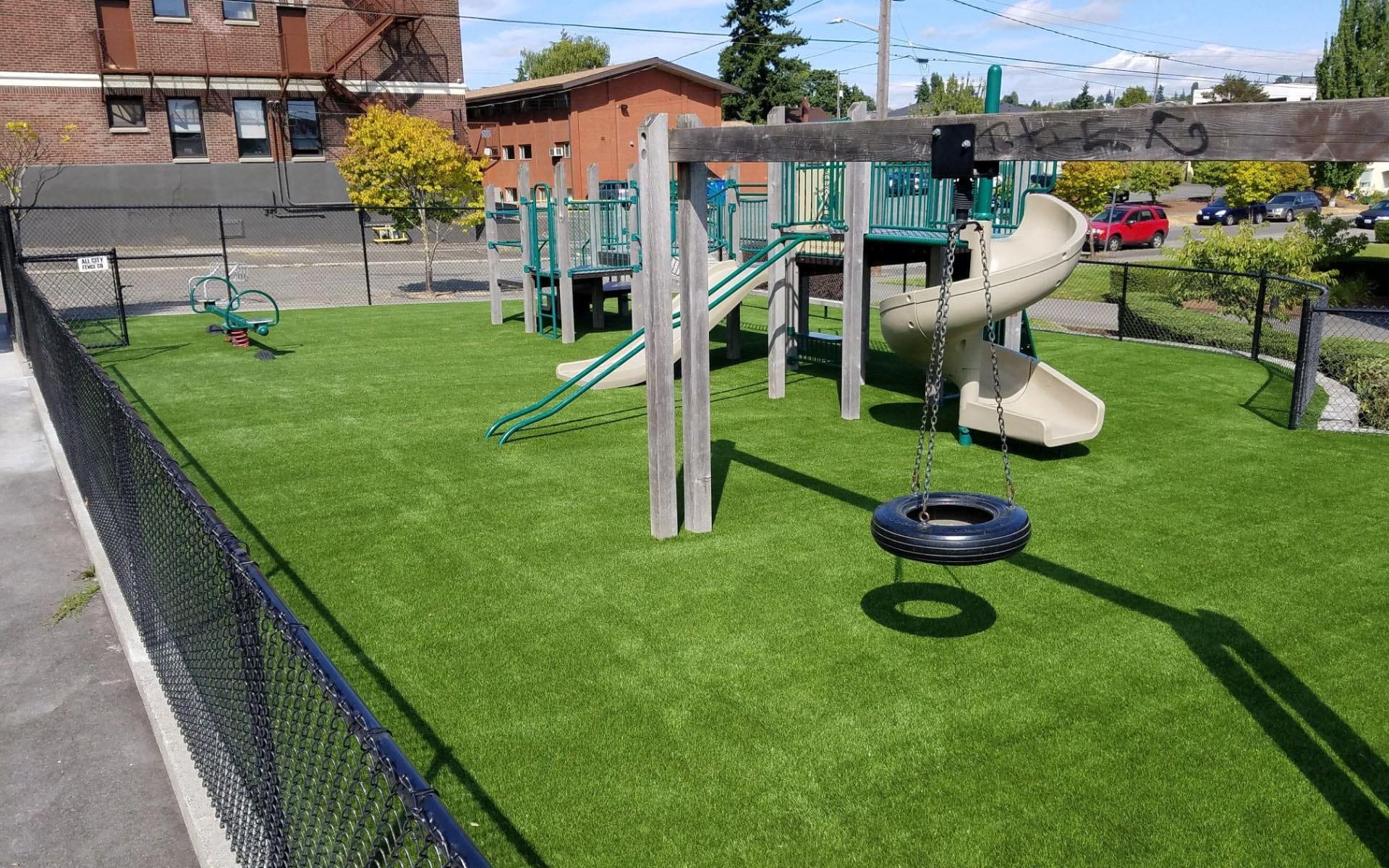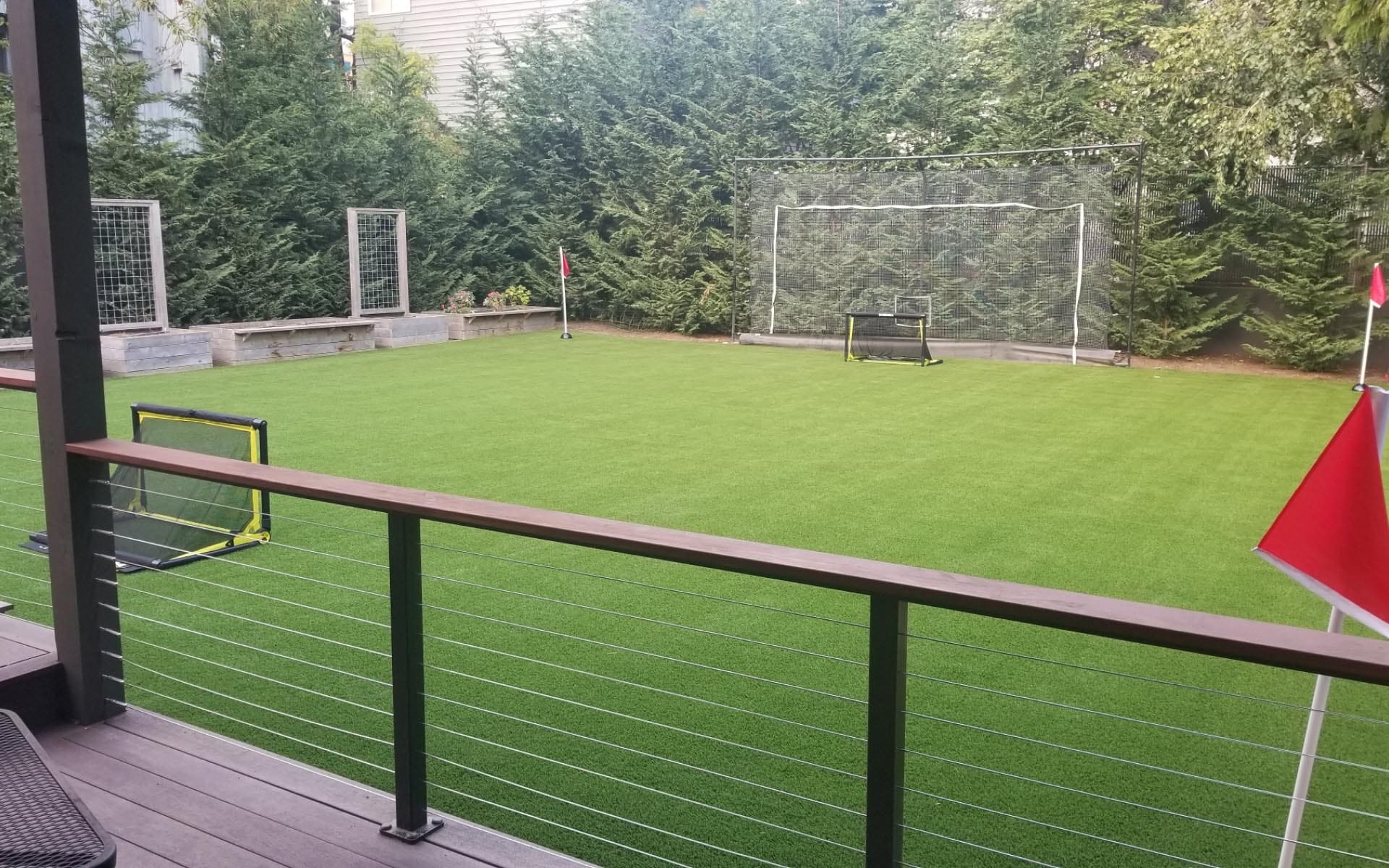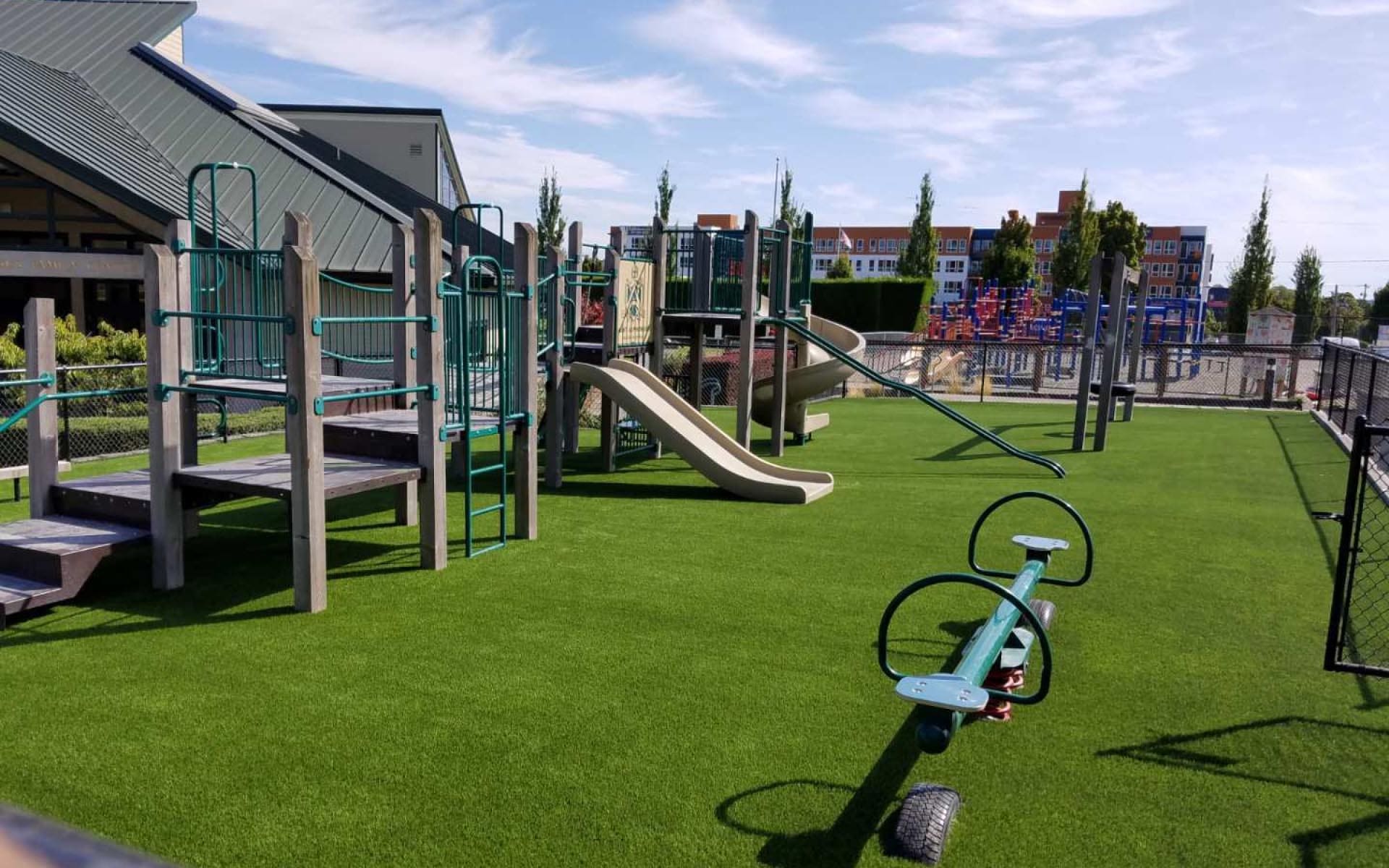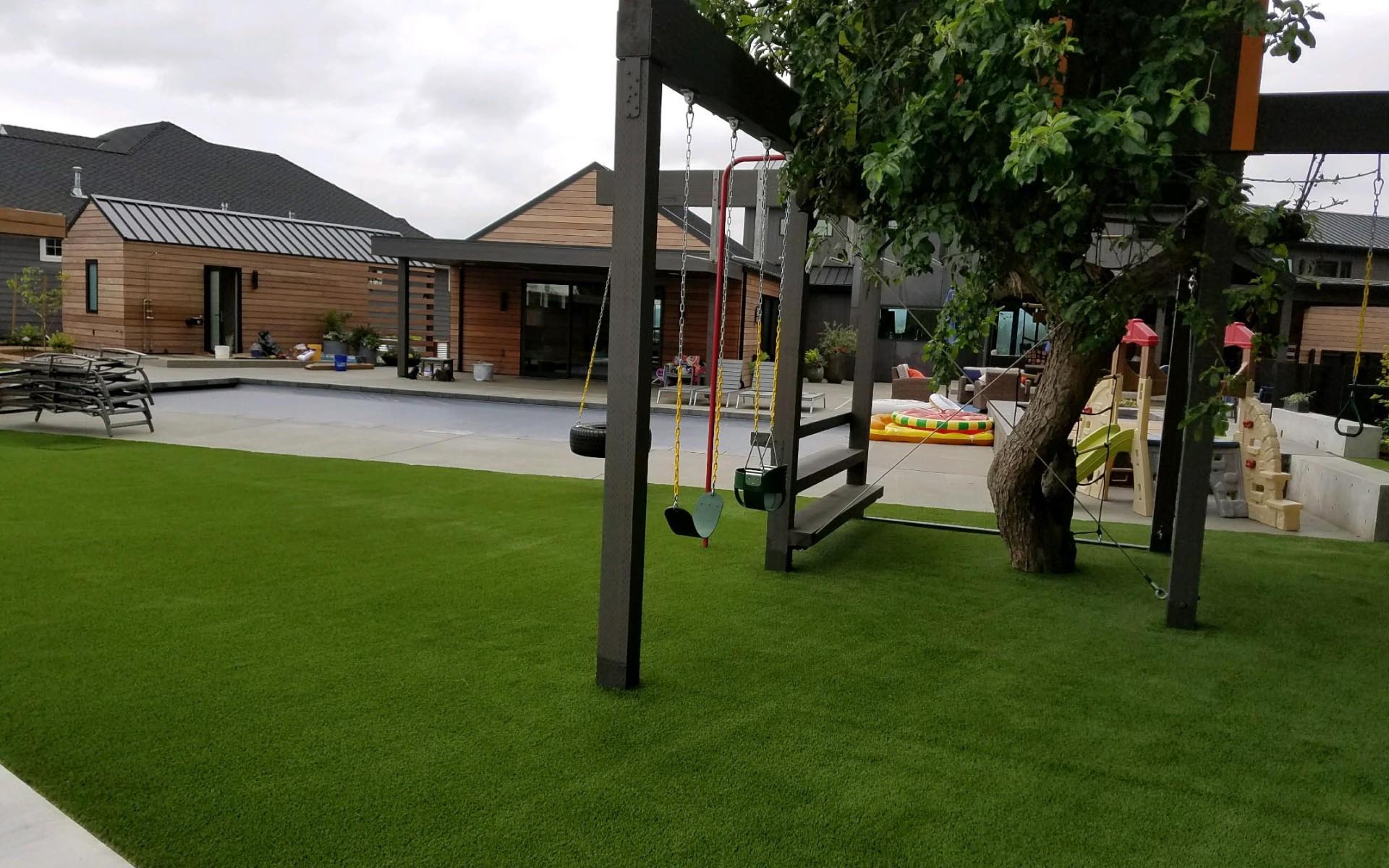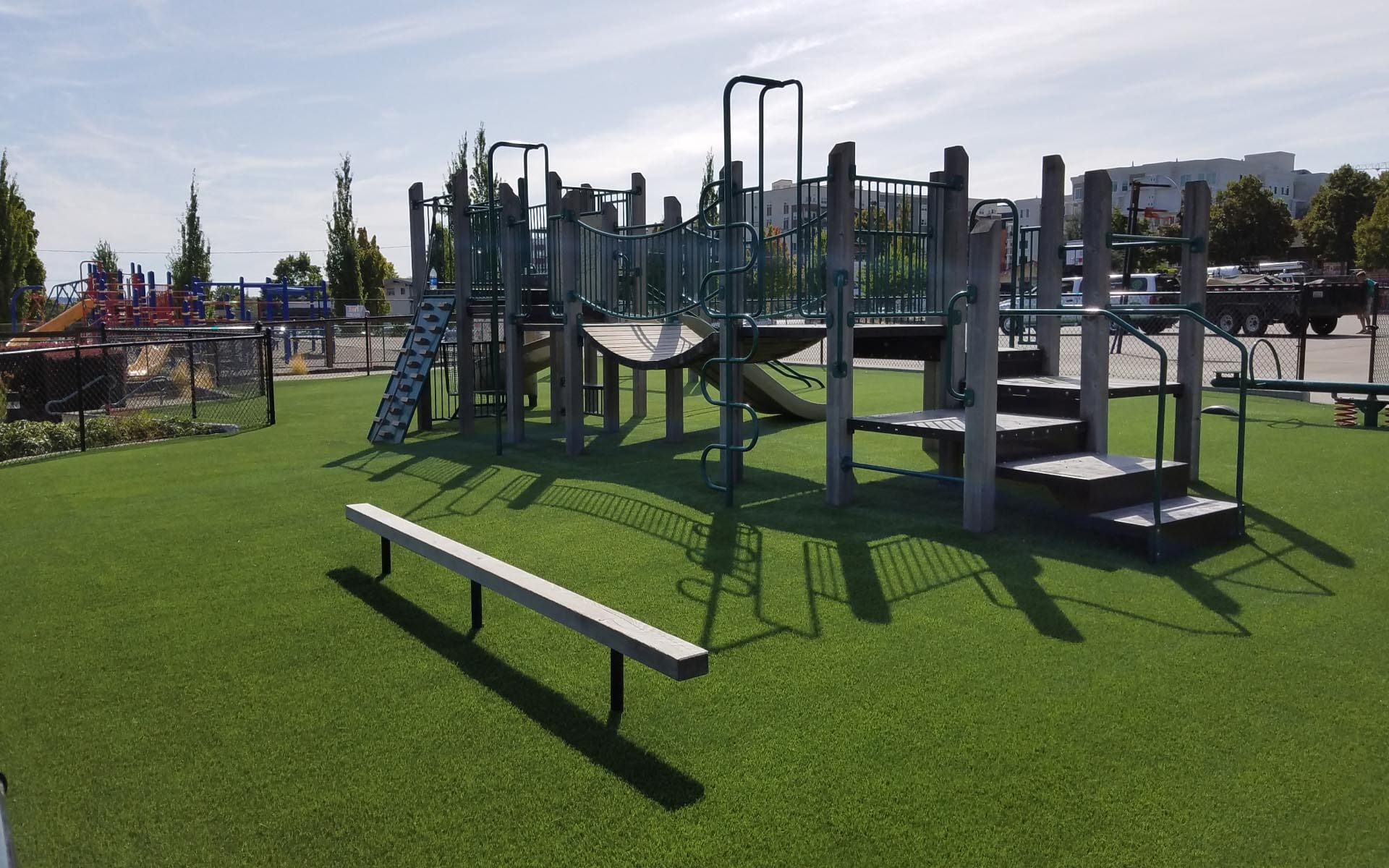 Comfortable and Safe Artificial Grass
Traditional playground surfaces like mulch, pea gravel, rubber or even natural grass are no match for our purpose-built playground turf. Gravel especially can be a highly dangerous surface for kids to play on.
Our artificial turf for playgrounds is softer and safer than gravel, dirt, wood mulch, sand and even natural grass. You can rest assured that your kids are safe even if they take a fall on our playground turf.
Kids have a lot of energy and it's inevitable that they'll chase each other around, which can and will lead to falls. Our artificial turf is designed to accommodate this, so your kids are in safe hands (or grass!) when you avail Synthetic Turf Northwest's artificial grass for playgrounds.
Looks Refreshing and Inviting
Our playground turf replicates the look and feel of natural grass, minus the maintenance hassles. It has a fresh, inviting and frankly beautiful appearance that will be a refreshing change of pace from indoor environments for your kids.
And you can enjoy the same lush green appearance year-round without having to worry about maintenance or the weather. Our grass looks lush green year-round!
Maintenance Free Artificial Turf for Playgrounds
Synthetic Turf Northwest's artificial turf for playgrounds is virtually maintenance-free. While a good idea, there is no need for unsafe chemicals such as herbicides, fungicides and insecticides.
Not only does this mean that your kids' playground will stay chemical-free, but it will also save your time. There's no need to mow or fertilize. Our playground turf will always look good.
High Durability
Playgrounds get a lot of heavy foot traffic, which is why our highly durable playground turf is the perfect choice for these areas. Artificial grass won't develop divots, dead spots and holes that natural grass play areas are so susceptible to.
Expert Installation
With 20 years of experience, Synthetic Turf Northwest understands the common issues with artificial grass installation. We use high-quality primary backing which allows for proper drainage.
Playground Turf Applications
Our playground turf can be used and installed with confidence in:
Community play areas
Commercial playgrounds
Day care facilities
Backyard or personal playgrounds
Public parks
Key Benefits of Our Installation Service
As your local expert for so many years, we have loved seeing the many ways our Washington State customers have benefited from the installation of artificial lawns and grass. Here are just a few of the advantages you may experience when choosing synthetic turf for your home or business:
Significant savings in water costs
No more mowing!
Environmentally friendly: No fertilizer, no pesticides.
Pet-friendly and anti-microbial
A variety of applications
The general price range for our synthetic turf playground systems is $16 – $25 per square foot. The cost of installing a turf playground is determined by project size, turf and safety padding selection, complications (i.e. design factors) and site-related factors (e.g. accessibility) Read more about the cost of artificial grass installation.
Our mildew-resistant, anti-microbial and UV color protected turf materials last for years. They come with a 10-year manufacturer's warranty and we provide a 5-year warranty on our turf installation services. Read more about our synthetic turf warranty.
Service Areas
We have installed artificial turf in virtually all cities throughout the Puget Sound region and Washington State. From AstroTurf to artificial grass installations, we have worked on residential projects in the Seattle, Bellevue, Redmond, Kirkland, Sammamish, Bothell and Everett areas – and just about any city in between.
Interested In This Service?
Why Our Playground Turf is Better Than Natural Grass
Synthetic Turf Northwest only offers the best quality synthetic turf that's well-suited to the needs of play areas. In addition to the innate benefits of artificial turf such as low maintenance, our playground turf is better for your kids because:
Isn't susceptible to mold which can cause allergic reactions in children
Doesn't become muddy, allowing kids to play after wet weather
Made of non-hazardous materials
Won't cause injury like sand or dry soil
Doesn't require chemicals for maintenance
…the quality, natural look of the turf, and overall investment was worth it. The crew was efficient, professional, and thorough. I'm so excited to have a play surface that my…
We just had a turf playground replaced at our Kirkland preschool by Synthetic Turf Northwest. They were GREAT to work with. They communicated very clearly and frequently, kept the work…
They are very knowledgeable about how to best install the recommended products and provided all the certifications and documentation necessary to ensure we were in compliance with the national playground…