Pro Series Pet Turf
Pro Series Pet Turf is synthetic grass for dogs designed with shaped yarn blades that bounce back to minimize matting. With both brown and green thatches, a tan face yarn this pet-friendly synthetic turf is functional and will look natural. This natural-feeling synthetic grass for dogs and other pets is non-absorbent, made of antimicrobial fibers, and features our Quad-Flow permeable backing allowing for proper drainage—making it a snap to clean.
Color – Pro Natural with both brown and green thatch
Antimicrobial
Bounce back yarn design
10-year warranty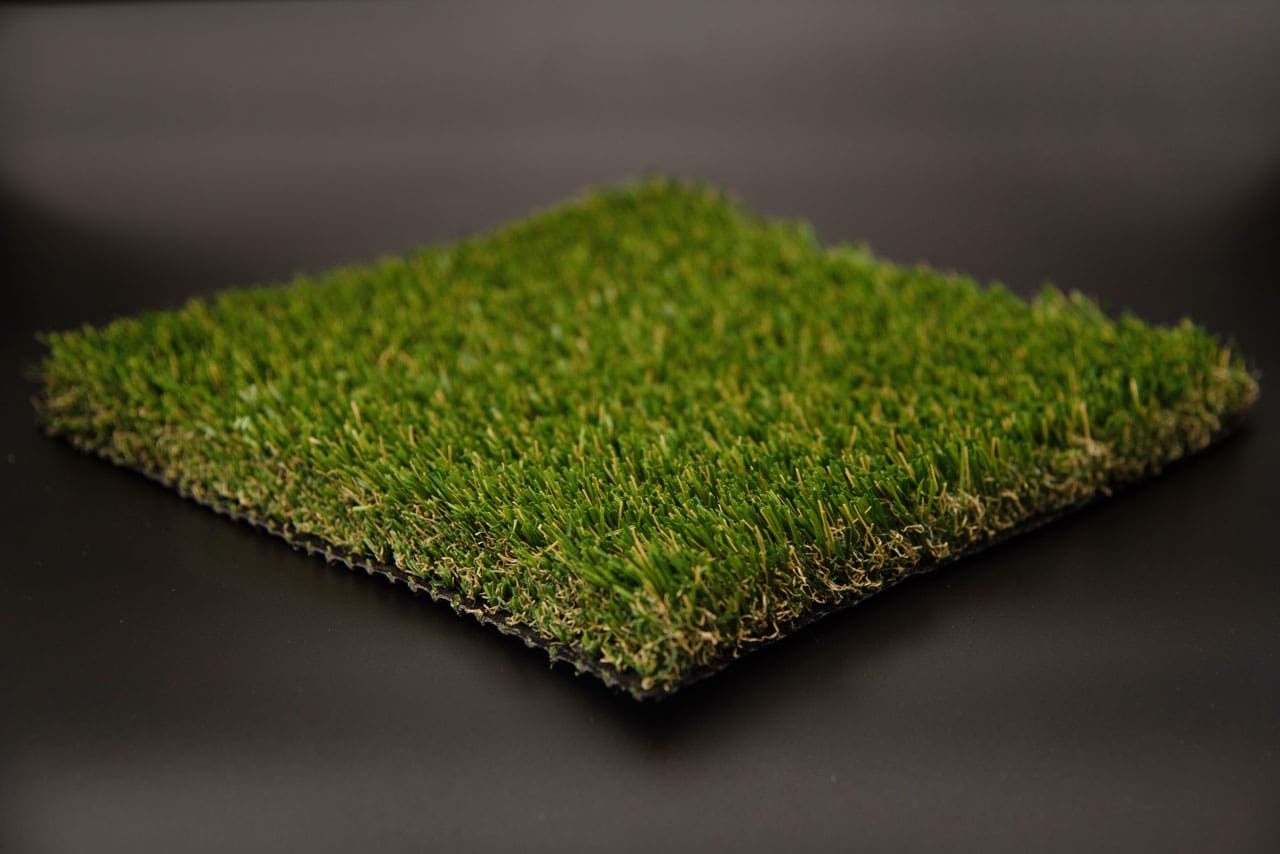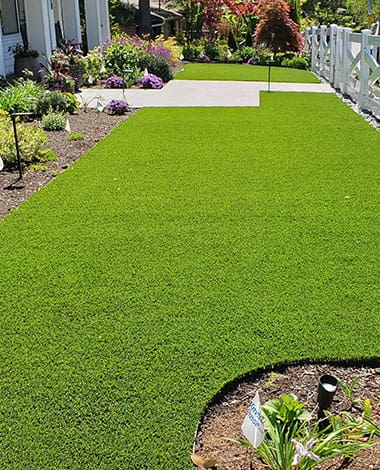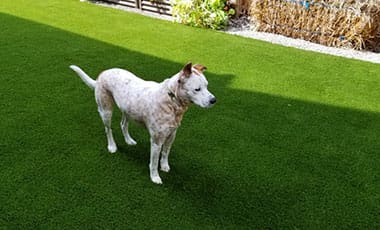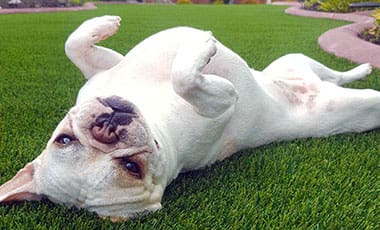 What is Pet Friendly Turf?
Pet friendly turf is made from synthetic grass (also called synthetic turf) as a durable alternative to conventional grass lawns. This option typically requires minimal upkeep and that's why increasing amounts of pet owners are choosing it to use in front yards, backyards, play areas and dog runs.
Heat and Frost Resistant Pet Turf
This landscaping option retains its appearance and feel in hot, dry climates while providing a lush green environment for your pet to play in. On top of this, you don't have to worry about remembering to water the grass on a regular basis to keep it from drying out and withering.
Is Artificial Turf for Pets a Safe Option?
Dog owners and pet owners in general always want a safe, comfortable option for their four-legged family members.
We love animals and care about animal safety, and customers in the greater Puget Sound trust us as an ethical, reputable synthetic grass installation company.
Lead Free Pet Turf
All of our Pro Series Turf is guaranteed 100% LEAD-FREE.
Lead is a common concern among pet owners investigating synthetic turf.
If you've just moved into a new house with a yard that uses synthetic turf of unknown origin, you should probably have it checked for lead levels. Low-quality synthetic turf does pose some health issues for pets and children.
What About Chemicals?
Traditional natural grass lawns are often treated with chemicals including fertilizers, herbicides and pesticides to keep them in great shape. If your dog likes to chew on grass in the yard, this can be concerning.
There are organic care options for traditional grass lawns, but you can never be sure that your landscaping company is using quality all-natural products.
Low Effort, Hassle-free Maintenance
On the other hand, our Pro Series Pet Turf does not require chemical treatment for upkeep. It's designed to be pet-friendly and requires virtually no upkeep.
Anti-Microbial & Anti-Bacterial Pet Turf Products
Our Pro Series Pet Turf has anti-microbial qualities that make it resistant to bacterial buildup caused by pet urine.
Our high-quality artificial grass for pets uses double propylene layers as infill to ensure there's no bacteria buildup across the lawn.
Easy to Clean and Hygienic Artificial Grass for Pets
Natural lawns are susceptible to developing ugly brown spots where your pet urinates frequently. These spots also harbor bacteria which can be hard to remove without serious chemical treatment.
Cleaning Liquid and Solid Pet Waste – Pet Turf vs Natural Grass
Cleaning up pet waste is a similar process if you're comparing synthetic pet turf vs natural grass. For solid waste, you can simply use a plastic bag to pick it up and discard it. And you can use water to hose down the traces left behind.
However, it is the aftereffects of pet waste where natural grass and our Pro Series Pet Turf differ greatly.
In natural grass, some amount of urine or solid waste is going to be absorbed by the soil beneath. This can lead to bacteria build up. If your cat or dog likes to chew on grass, they will be exposed to bacteria in the area as a result.
No More Urine Odors
Our Pro Series Pet Turf uses an infill that does not absorb urine. Cleaning our pet turf is as simple as rinsing it with a garden hose. Its anti-microbial properties make it highly resistant to bacteria so you won't have to worry about exposing your beloved pet to it.
Pro Series Pet Turf for Dogs – No More Digging Issues!
Some dogs just love digging and we can't fault them for doing something that's natural, can we? Unfortunately, digging can cause damage to traditional grass lawns and leave you with lots of holes to fill. This also the maintenance requirements of natural grass lawns quite extensively.
Durable Pet Turf
Our Pro Series Pet Turf is built for heavy traffic and is very durable. We've found dogs to be less inclined to dig on it. Just another upside of having synthetic grass for pets.
Where to Buy Pet Grass
Synthetic Turf Northwest offers high-quality pet turf through its Pro Series Pet Turf synthetic grass. Simply fill out our 'Get an Estimate' form to avail this high-quality pet turf product.
Where Can I Buy More Artificial Turf Products
The Synthetic Turf Northwest website offers you a convenient way to order synthetic turf from the comfort of your home.
Simply fill out our 'Get an Estimate' form and we'll get in touch with you with a competitive pricing estimate.
Pet-Friendly Synthetic Turf Product Specifications
Yarn Shape
Wide Wave Blade
Backing
Double Polypropylene Layers
Well, we have had our synthetic turf pet lawn for a year now and love it at much as ever. With two active dogs and living in the rainy PNW,…
We had a major need for pet turf at our new home to keep muddy paw prints from our dogs under control. … I will say up front that this…
It looks so real and our dogs are in love with it, they've been rubbing themselves into it and laying on it just about every chance they get.