Synthetic Turf Northwest has been installing commercial and residential golf greens in the Seattle area for over 20 years. From professional synthetic golf green installations to backyard putting green installations, we've done it all.
Because we have our artificial golf turf designed and manufactured at textile mills located here in the U.S., the quality of our products is unrivaled. Our artificial putting green turf offers a great value for both durability and performance.
Combined with a professional installation, your synthetic golf green really can improve your game. We can install our artificial golf greens in virtually any location of any size – we can even recreate an existing golf green from your country club or your favorite course!
We also design and build superior quality golf practice areas; including sand bunkers, hitting cages, chipping areas and tee boxes. We also provide specialized turf for indoor areas, rooftop practice greens, bocce ball courts, tennis courts, poolside, and any other application to which one can conceive or dream.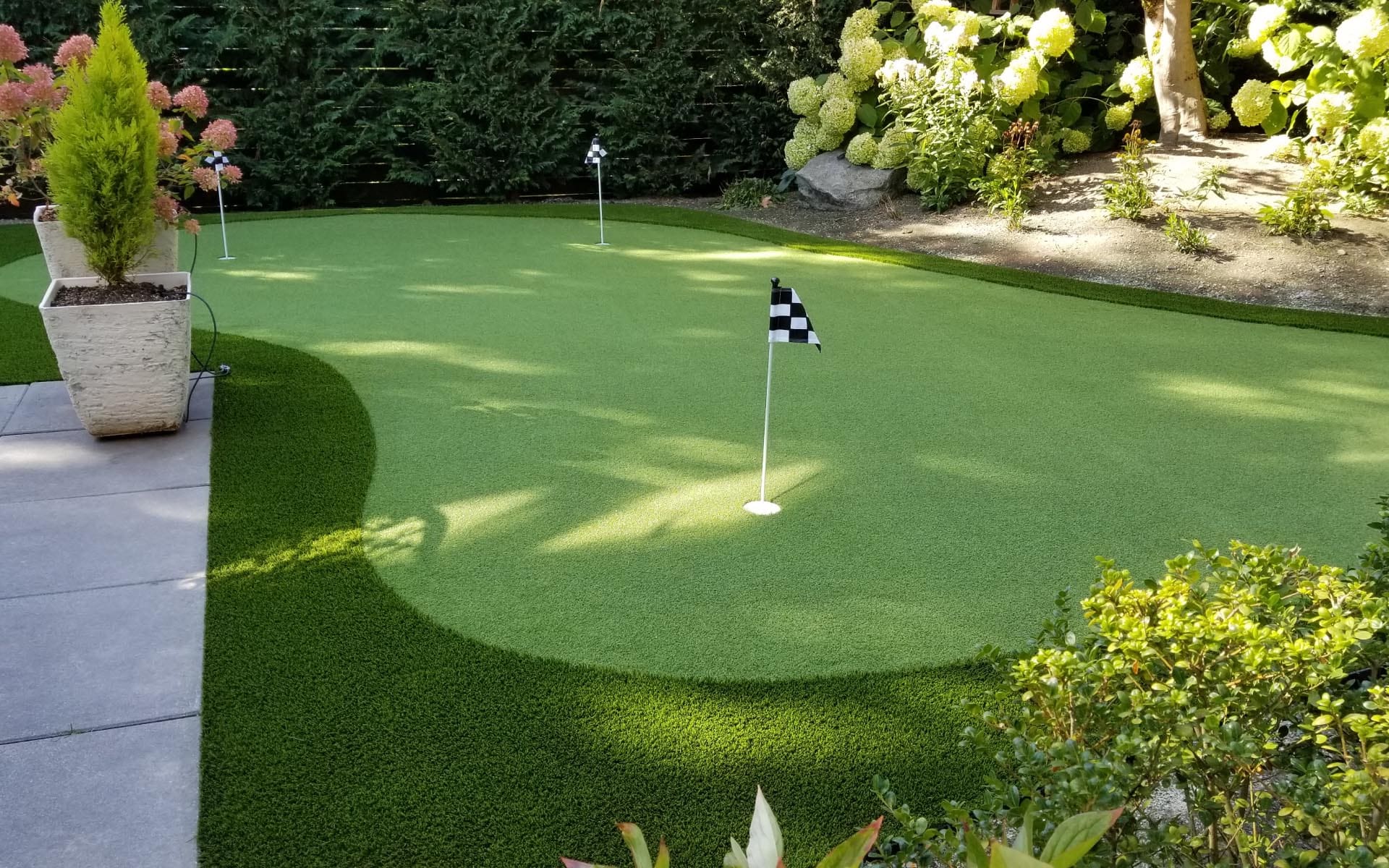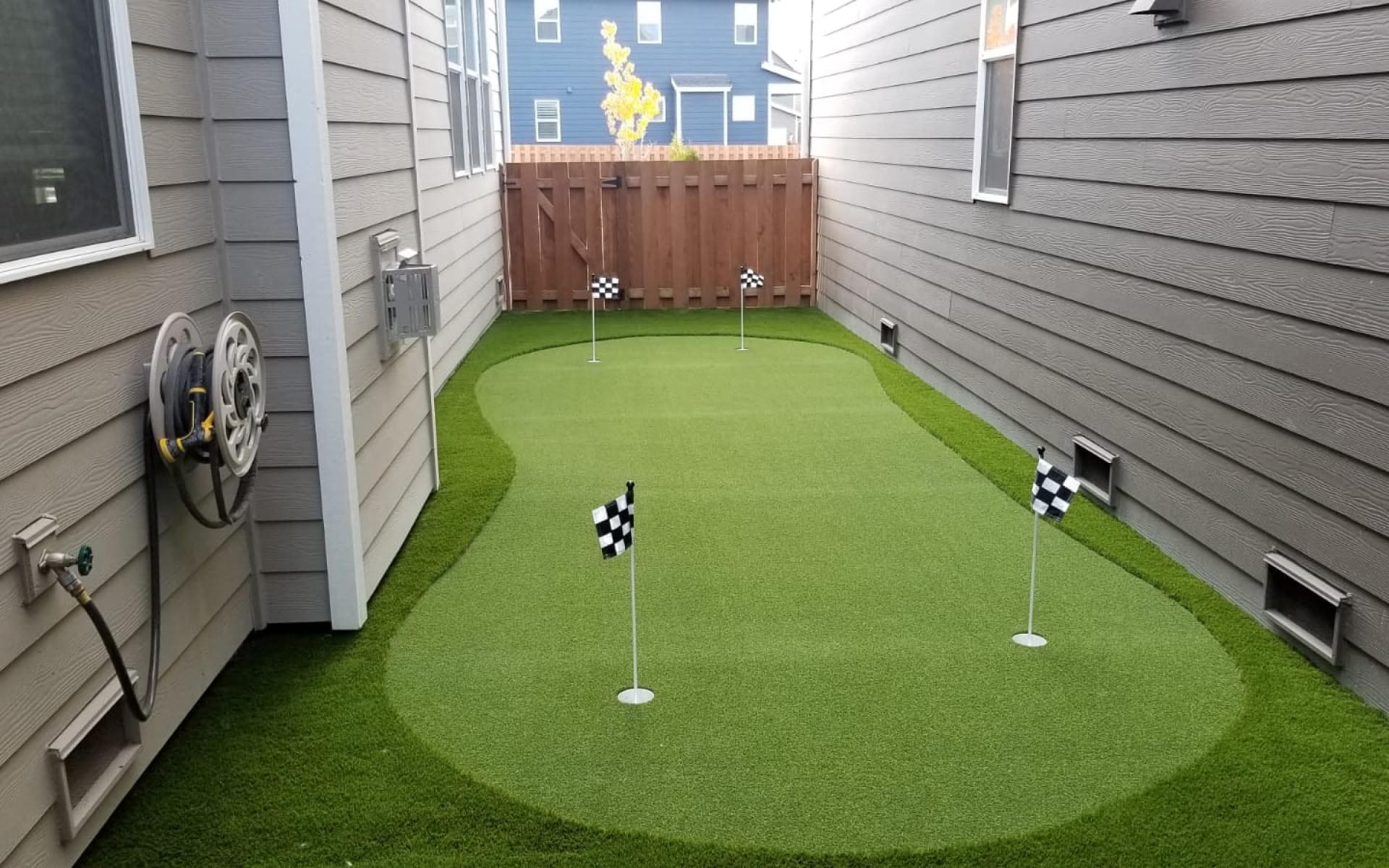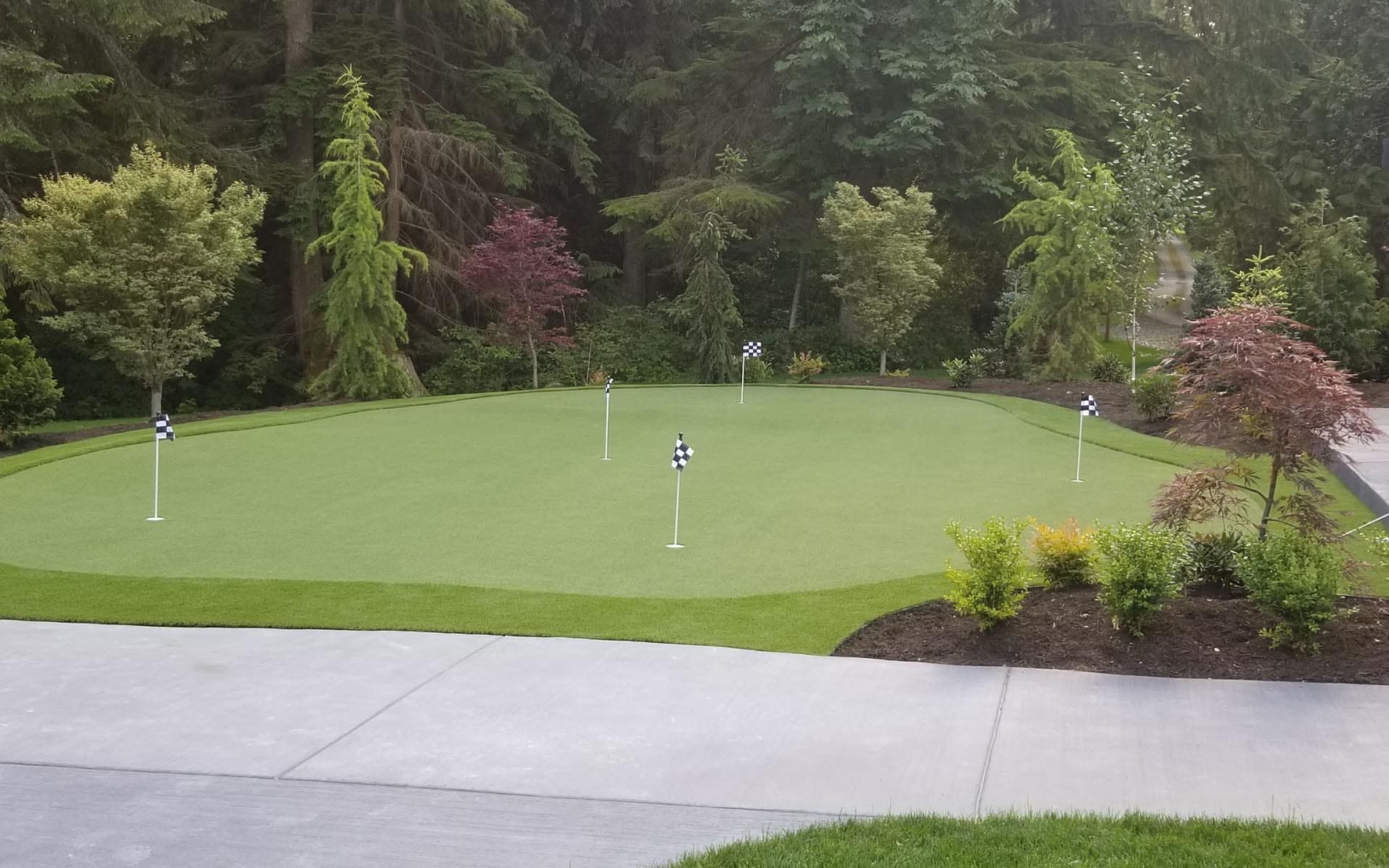 Key Benefits of Our Golf Greens Installation
As your local expert for so many years, we have loved seeing the many ways our Washington State customers have benefited from the installation of artificial lawns and golf greens. Here are just a few of the advantages you may experience when choosing synthetic turf for your home or business:
Significant savings in water costs
No more mowing!
Environmentally friendly: No fertilizer, no pesticides.
Pet-friendly and antimicrobial
A variety of applications
Synthetic putting green pricing is calculated by square footage, and many other factors such as site accessibility, artificial turf selection, and size and scope of project. Specific requirements for custom design are also included in the pricing. Recent improvements in synthetic turf have yielded a supremely soft and natural texture, both visually and to the touch. A general ballpark estimate is between $18 to $22 per square foot. This includes base construction and all aspects of installation.
Our turf material is UV color protected and comes with an 8-year manufacturer's warranty. Construction and labor warranty is one year. Our lawn turf resists fading and mildew. All of our turf is pet-friendly and over 95% of our customers are dog owners.
Service Area
We have installed artificial turf in virtually all cities throughout the Puget Sound region and Washington State. From AstroTurf to artificial grass installations, we have worked on residential projects in the Seattle, Bellevue, Redmond, Kirkland, Sammamish, Bothell and Everett areas – and just about any city in between.
Interested In This Service?
What is Synthetic Turf?
Synthetic turf has been used for more than 5 decades in the United States. First implemented in the early 60's to play sports indoors, it has since evolved into a thriving product used in several different ways.
For serious golfers, the green is a big deal, impacting everything from aesthetics to the success of your swing.
There's a lot to consider when installing a home putting green, which is why we at Synthetic Turf Northwest have compiled a list of 4 reasons artificial golf turf is the way to go.
Synthetic Putting Greens Are Low Maintenance
When it comes to improving your golf swing you've got to have time to practice, but who can find the time when there are so many chores to be done. Cut out some yard work by avoiding the mower with artificial golf turf.
The realistic looking blades are soft like real grass, but never grow, meaning there's no need to mow, or pull weeds on your day off.
Aside from the occasional spray of a hose if your pet has done their business, or a swipe of a rake to rid your lawn of fallen leaves, these synthetic lawns are practically effortless to maintain.
Your Home Golf Putting Green Will Always Look Professional
Unlike real grass which requires constant watering, trimming, and fertilizing to stay fresh, our home putting greens never turn brown.
With built in antimicrobial properties, Synthetic Turf Northwest products repel bacteria, fungi, and insects, keeping your home putting green looking bright, landscaped, and professional all year round.
Artificial Putting Greens Can Go Anywhere
At Synthetic Turf Northwest, we don't just install artificial golf turf; we also specialize in artificial putting greens. We have a wealth of experience when it comes to home and backyard putting green installation.
Whether you want to practice your swing poolside, install your green on the roof, or put in some professional-level practice areas around your home, we've got you covered. Tee boxes, chipping areas, sand bunkers, and hitting cages are all possible features for your dream green. When we say golf, we mean golf, and we're prepared to take your home green to the next level. Contact us to learn more about home or backyard putting green installations.
Forget the Water Bill
Finally, home putting greens can help save you money over time by cutting back on water costs and helping to conserve a natural resource.
While your neighbors are stressing about the heat of the sun browning their lawns during the summer months, you can lay back, relax, and enjoy the greenery surrounding your home, because synthetic turf doesn't require regular watering.
You can also save costs on landscaping, fertilizer, and pesticides, as the antimicrobial properties of the lawn will keep bacteria and pests at bay. All our products are pet safe, and child friendly, making synthetic putting greens a great alternative to live lawns.
All our specialists are insured, bonded, and have years of experience installing artificial putting greens.
Contact us today for a free estimate, and speak to one of our friendly staff about any questions or concerns you might have. We are always happy to speak with new or returning clients, and look forward to your call.