Synthetic

Grass Sports Fields & Play Areas

Artificial turfs have long been a low maintenance, environmentally friendly option for outdoor sports fields, schools and other play areas. For over 20 years, our team of design and installation experts has completed projects around the Greater Seattle area ranging from soccer and lacrosse fields, to backyard game courts for volleyball, croquet, badminton, bocce ball and more. These turfs offer year round usability, and have improved in virtually every aspect since the invention of "astro turf" in the 1960's, from yarn softness to color fastness. If you are looking into artificial grass options for an outdoor sports field or play area, contact us today for a free estimate. We proudly serve the Puget Sound from Kent to Lynnwood, Bothell to Issaquah and Redmond to Renton.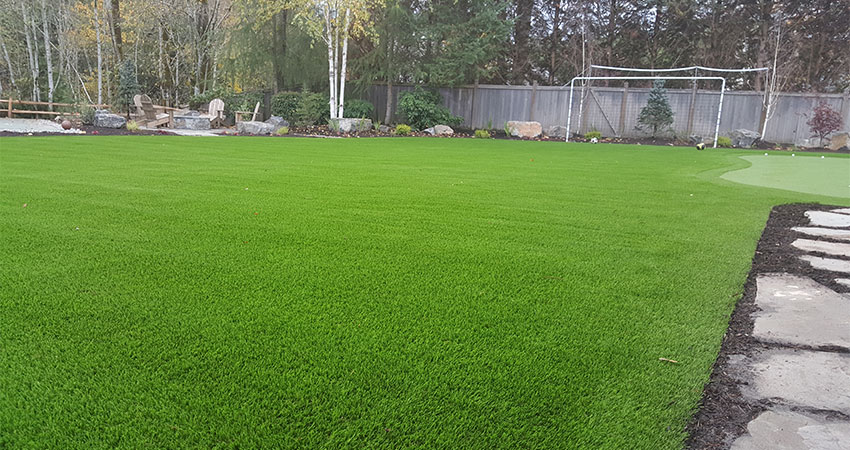 Key Benefits of the Service
As your local expert for so many years, we have loved seeing the many ways our Washington State customers have benefited from the installation of artificial lawns and grass. Here are just a few of the advantages you may experience when choosing synthetic turf for your home or business:
  Significant savings in water costs
  No more mowing!
  Environmentally friendly: No fertilizer, no pesticides
  Pet-friendly and anti-microbial
  A variety of applications
Synthetic grass lawn pricing is calculated by square footage, and many other factors such as site accessibility, artificial turf selection, and size and scope of project. Recent improvements in synthetic turf have yielded a supremely soft and natural texture, both visually and to the touch. A general ballpark estimate is between 10 to 16 per square foot. This includes base construction and all aspects of installation.
Our turf material is UV color protected and comes with an 8-year manufacturer's warranty. Construction and labor warranty is one year. Our lawn turf resists fading and mildew. All of our turf is pet-friendly and over 95% of our customers are dog owners.
We have installed artificial turf in virtually all cities throughout the Puget Sound region and Washington State. From AstroTurf to artificial grass installations, we have worked on residential projects in the Seattle, Bellevue, Redmond, Kirkland, Sammamish, Bothell and Everett areas – and just about any city in between.