Pro Series Plush Turf
This is our fullest looking turf and offers a great natural green lawn feel. This product features a Wide Wave Shaped Yarn which helps with softness and mutes direct sunlight light, quad flow drainage for superior flow through, and muted color dye for more natural appearance Ideal for moderate to heavy traffic.
Color – Pro Natural with both brown and green thatch
Antimicrobial
Bounce back yarn design
10-year warranty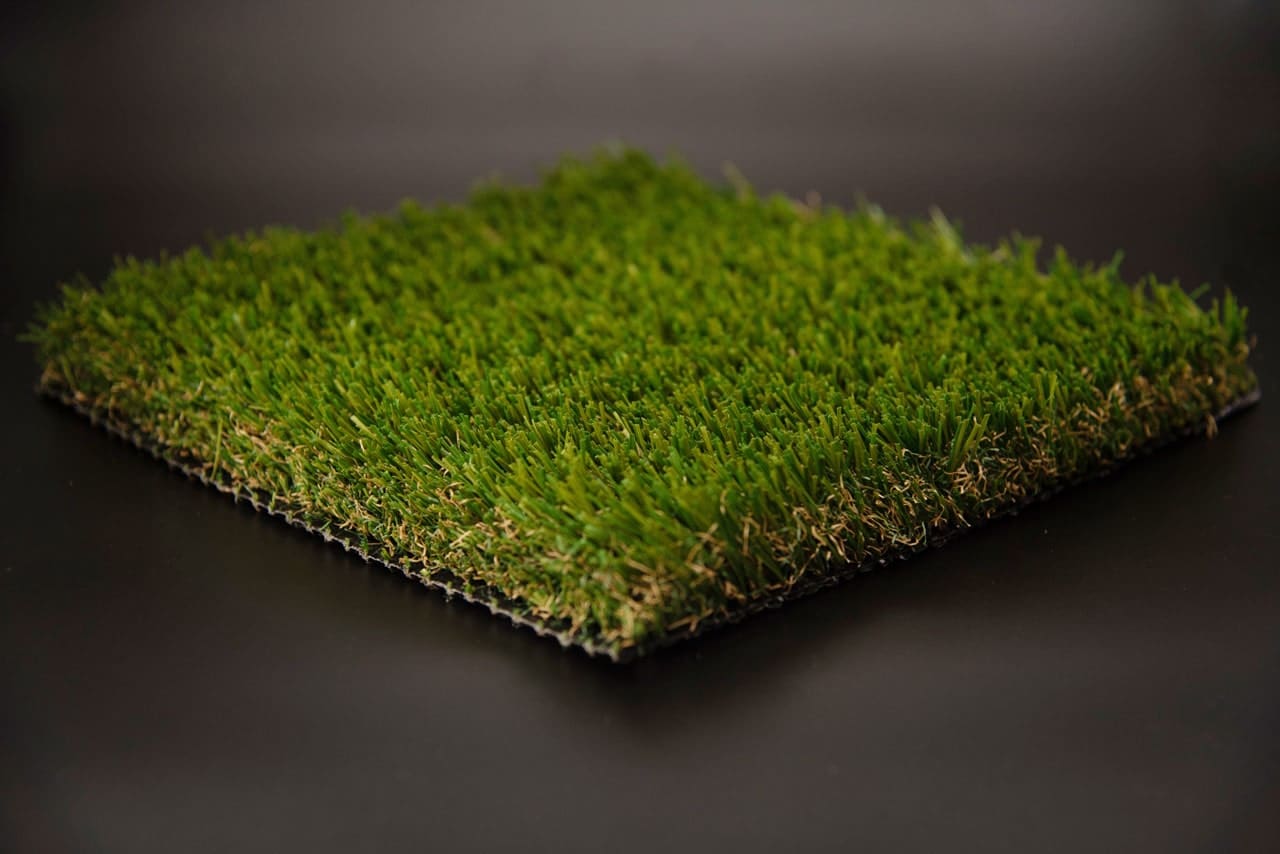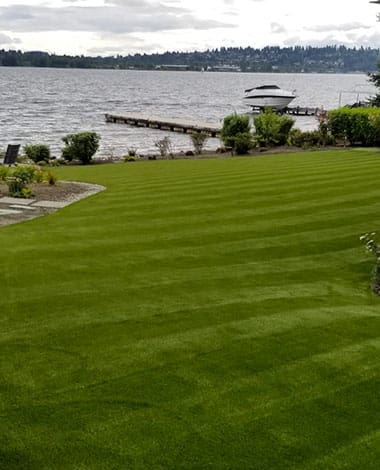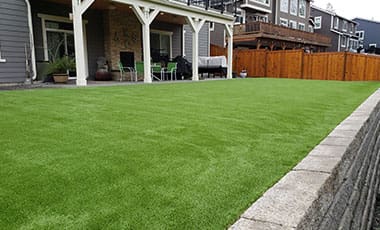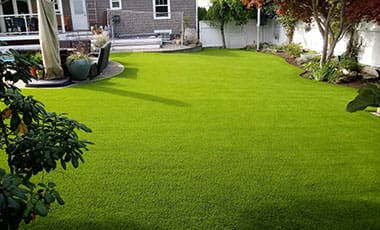 Are you looking for the softest artificial grass out there? Synthetic Turf Northwest Pro Series Plush Turf is designed to be a soft artificial turf that is still durable enough to withstand moderate to heavy traffic.
It features wide wave-shaped yarn which contributes to the softness of the turf and also mutes direct sunlight, helping it stay cooler than other synthetic turfs.
If you're looking for a turf with a muted, natural grass-like appearance then the Pro Series Plush Turf is an excellent choice.
Why Choose Soft Artificial Turf
Many people want soft artificial turf because they want something as close as possible to the feeling of a nicely mowed, natural grass lawn.
Natural Feel and Texture
The Pro Series Plus Turf has different fibers compared to other varieties of synthetic turf, helping it offer a softer feel as a result.
Color
Our ProSeries synthetic grass products feature color-dyed fibers that are muted. This softens light reflection and ensures a much more natural look.
Infill Choice for Pro Series Plush Turf
Our recommended infill for this turf is silica sand as it boosts the natural and soft feel of this turf while providing excellent drainage benefits.
The silica sand also gives this turf a natural look and makes it suitable for medium to heavy foot traffic areas.
Drainage
All Synthetic Turf Northwest products feature quadflow drainage, allowing water to flow right through them with absolutely no water or moisture retention above the turf.
This prevents water from pooling on the surface of the turf, becoming a potential safety hazard. This also protects the synthetic turf system from the impacts of long term erosion.
Benefits of Pro Plush Series Turf
Our Pro Series Plush Turf carries many of the same inherent benefits of synthetic turf along with some additional perks thanks to its softness
Durability
Pro Series Plush Turf is much more durable compared to natural grass, as it won't be damaged easily due to heavy foot traffic or dogs trying to dig through it.
Ease of Maintenance
This turf is extremely easy to maintain, especially compared to natural grass. There is no need to mow or water it regularly, like you have to with real grass.
It retains its soft feel and fresh look throughout its lifespan, so you can enjoy a fresh green lawn without spending too much time maintaining it.
Pet Friendly
Natural grass has to be treated with weed killers and fertilizers to be in healthy shape. Even if this is a necessity, it doesn't mean it's actually good for the environment or your pets.
Your dog may be allergic to some of the chemicals found in these products, so natural grass might not be the best option for them.
Pro Plush Series Turf requires no special product treatments. You only need to rinse it with water occasionally to wash off dust and debris.
Plush Artificial Grass Product Specifications
Backing
Double Polypropylene Layers
The product actually exceeded my expectation on visual. It is also fairly soft and great with small children as they run/slide/fall everywhere! Would definitely recommend this company to anyone considering…
The end result looks lovely and natural. The plush astroturf we selected reminds me of the dense grass you see in Hawaii. Our enormous Bernese puppy could not be happier…