Synthetic Lawn and grass have great residential and commercial indoor applications as well. From installing your own putting green or bocce ball court, to turf areas for clinics, gyms and sports facilities– our indoor artificial turf installation projects are some of our favorites.  Contact us today to talk about your indoor artificial grass project and visit our gallery page for inspiration from some of our other local Seattle and Puget Sound area installations!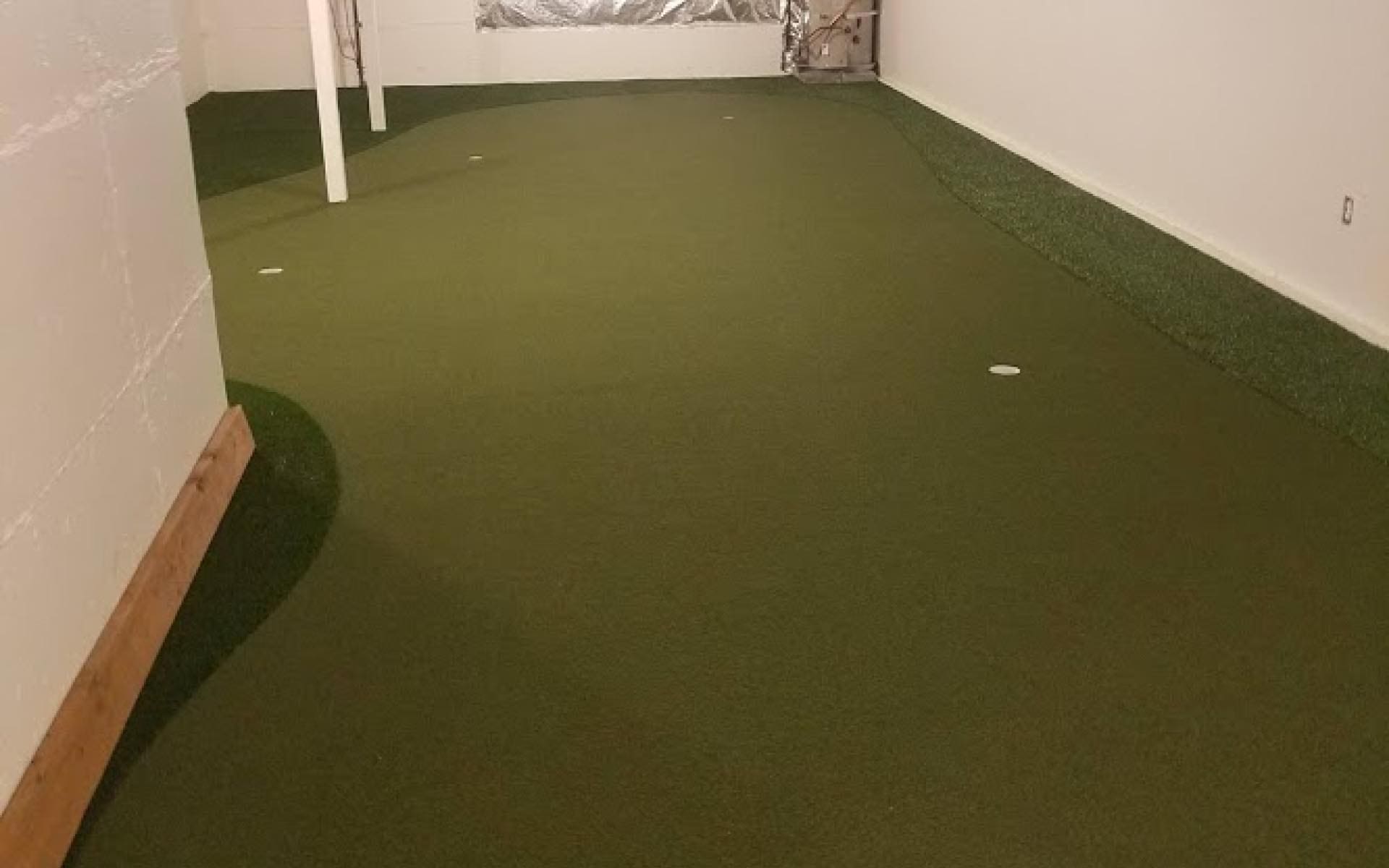 Key Benefits of the Service
As your local expert for so many years, we have loved seeing the many ways our Washington State customers have benefited from the installation of indoor artificial grass and lawns. Here are just a few of the advantages you may experience when choosing synthetic turf for your home or business:
Significant savings in water costs
No more mowing!
Environmentally friendly: No fertilizer, no pesticides.
Pet-friendly and antimicrobial
A variety of applications
Installation Service Warranty
Indoor turf installations generally range between $12 to $15 per square foot. Pricing varies with the size of the installation, artificial turf selection and the nature of the project. Padding and other optional materials are an additional cost. See How Much Does Artificial Grass Cost? for more details.
Our turf resists mildew and will last for years when used in an indoor installation. We offer a 10-year manufacturer's warranty on materials and a 5-year warranty on installation services (i.e. labor). Read more about our artificial grass warranty.
Service Areas
We have completed indoor artificial turf installation in virtually all cities throughout the Puget Sound region and Washington State. From indoor AstroTurf to indoor artificial grass installations, we have worked on residential projects in the Seattle, Bellevue, Redmond, Kirkland, Sammamish, Bothell and Everett areas – and just about any city in between.
Interested In This Service?
Indoor Turf Installation in Washington State
Synthetic Turf Northwest specializes in indoor turf installation. We advocate the use of indoor turf for a variety of reasons. Indoor artificial turf can be used indoors because of its durability and we only use the highest quality indoor turf that's built for heavy foot traffic.
Indoor Turf Fields
Now you can practice sports and athletics year-round thanks to our specialized indoor turf installation services. No matter if it's extremely hot or cold outside, you can keep playing or practicing from indoor comfort.
Benefits of Indoor Turf
Sports 24/7
The biggest benefit of indoor turf is that you can keep playing or practising your favorite sports regardless of the weather!
Low Maintenance
Synthetic turf is low maintenance, requiring only rinsing after long intervals.
Hygienic
Synthetic turf is hygienic and there's no hazard of bacteria build-up.
Interested In Indoor Turf Installation or Replacement?
Synthetic Turf Northwest is a trusted indoor turf installation and replacement company. We have hundreds of satisfied customers and are thrilled to serve you, too!
Get in touch with us and we'll create your dream indoor turf field so you can play or practice every day, or just enjoy the quality and peace of mind that an indoor turf can bring!