Artificial grass lawns are a low-maintenance alternative to natural grass. While they are much easier to look after, they still require some care. Plus, it's important to recognize that synthetic turf has unique care requirements. Follow these artificial grass maintenance tips to maximize the life of your turf lawn and keep it looking its best.
Regular Maintenance For Artificial Grass
Regular maintenance will keep your turf looking its best. And with proper care, your synthetic lawn can last 15 – 25 years.
Remove Organic Debris Regularly
The Seattle area is rainy. Layers of leaves can trap moisture and potentially damage your synthetic turf. Use a blower, broom or rake to remove organic debris and keep your lawn clear and dry.
Pay Attention To The Edges Of Your Synthetic Lawn
Edges tend to collect leaves and other organic debris. Pay particular attention to these areas when maintaining your lawn.
The edges are also more likely to see weed growth. Pull weeds from along the edges of your lawn when they appear. Apply pre-emergent weed control regularly to keep weeds at bay.
Brush Artificial Turf Regularly
The fibers of your artificial grass can become flattened, especially in high-traffic areas. Brushing or raking the blades helps keep them upright.
It also helps redistribute sand infill, which is important for supporting the blades. By lifting matted turf fibers and surrounding them with infill, brushing or raking will restore the lively, natural appearance of your lawn.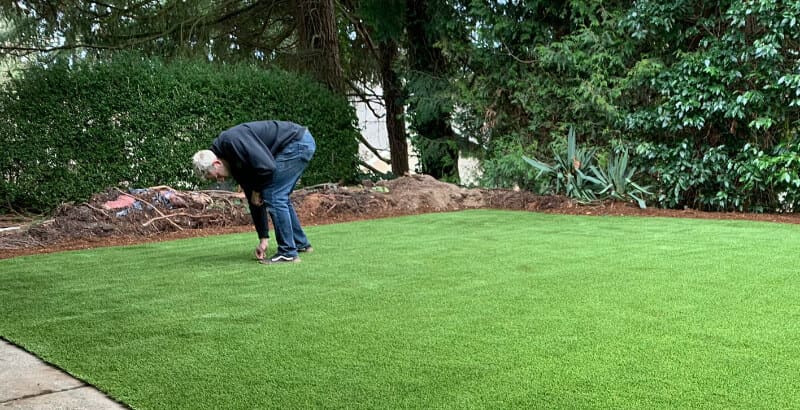 Artificial Lawn Weed Control
Artificial grass lawns can still get weeds. But turf materials are inherently weed-resistant. So, weeds are far less of a problem. What's more, weeds growing on synthetic turf typically can't get well-rooted so they're easy to remove.
To minimize spread, pull weeds as soon as you spot them. And follow up with pre-emergent weed control to suppress future weed growth.
Cleaning Synthetic Turf
Rinse Artificial Turf Regularly
Use a garden hose or a power washer to rinse your synthetic turf. Water alone will help remove pollen, dust and dirt, as well as any pet-related odors. In the Seattle area, the natural rainfall will actually do some of this work for you!
Spot Clean Your Artificial Lawn As Needed
From food spills to bird droppings, your artificial lawn will inevitably need more than just a gentle rinse. Use water, mild detergent and a sponge to spot clean stains.
As with clothing, try to clean up spills when they happen, so the stain doesn't get a chance to set. Once the stain is removed, rinse the area thoroughly with a hose to wash away any remaining detergent.
Long-Term Turf Care
Apply weed and moss treatment at least twice a year
Replace worn, high-traffic patches as needed
Artificial Grass Maintenance Equipment:
Blower, broom or rake

To lift blades and redistribute sand infill

Hose or power-washer

To rinse away pollen, dust and dirt

Gentle cleaner & sponge
Pre-emergent weed killer
Moss treatment

To eliminate moss
This is particularly important in rainy, wet climates like Seattle and across Puget Sound!
Conclusion
Artificial grass lawn care is easy. Compared to natural grass, synthetic turf maintenance will save you both time and money. (Read this article for more information on the cost of artificial grass installation.)
For semi-annual maintenance, repair work or general questions about synthetic turf, contact us.