Using synthetic turf as a playground surface provides a multitude of advantages, the most important of which is safety. Turf playground surfaces ensure a safer environment for children in a variety of ways.
Impact Absorption: certified padding beneath the turf system improves fall safety
Low Abrasion: synthetic turf decreases the risk of abrasions
Cleanliness: polypropylene blades are antimicrobial and easy to clean
Synthetic Turf Playgrounds: Impact Absorption
Consistent Impact Protection
Typical loose playground footing, such as mulch or sand, are easily displaced. These materials become scattered around the play area during regular use, particularly in high-traffic areas.
The disbursement of these fillers can result in an uneven play surface. More importantly, the sparse areas of the playground can offer less impact absorption than intended. These materials must be raked back into position in order to provide consistent safety levels.
Synthetic turf is installed on top of shock-absorbing padding. Because the padding is located under the turf material it cannot be displaced. It provides consistent levels of shock-absorbing protection. 
Measured Impact Absorption
The type of padding installed in a turf playground is specific to the height of the play equipment and its intended use.
In fact, the American Society for Testing and Materials (ASTM) standard F1292 provides playground designers with detailed safety guidelines.
Synthetic Turf Northwest uses this standard to design playgrounds with impact-absorbing qualities that are optimized for each particular installation.
Reduced Tripping Hazards
When properly installed, artificial turf provides an even, stable footing across the entire play area. It reduces the inconsistent and uneven surfaces that are common with other playground materials that are displaced by use.
Of course, high-traffic areas can wear out a little more quickly. In this event, specific areas can be replaced as needed to maintain a consistent surface.
Non-Abrasive
Synthetic turf is a plush solution that makes for a soft landing. Its polypropylene blades are smooth, non-abrasive and less likely to scratch small knees and hands.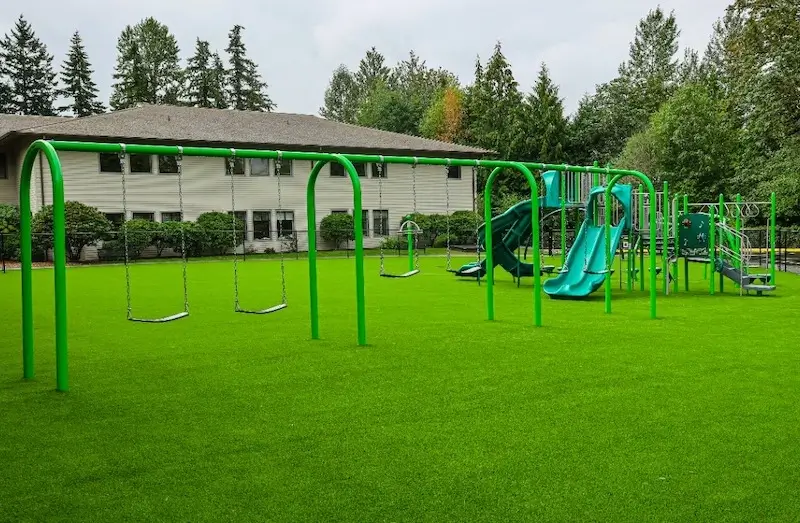 Synthetic Turf Playgrounds Are Clean
Turf can be rinsed with water. It is 100% non-absorbent, so rinse water—or spilled drinks—drain right through the turf system.
It is also chemically inert – it won't react, whether exposed to spilled snacks, sunscreen, road salt, etc. A turf playground can be spot cleaned with mild detergents as needed.
Antimicrobial & Pest-Free
Artificial grass from Synthetic Turf Northwest is antimicrobial. So, it maintains a lower bacterial population than other organic alternatives.
Synthetic turf is less likely to harbor pests. Playgrounds made with synthetic turf are less likely to contain fleas, ants, ticks, sand wasps or any other insect common with organic footing alternatives.
Hypoallergenic
Pollen rinses away easily and with no grass clippings, playgrounds made with artificial turf are also hypoallergenic.
The turf and infill materials are non-toxic and non-flammable.
Environmental Advantages
Artificial turf playgrounds can be maintained with very little or no weed killers. They also require no fertilizers. They significantly reduce the use of chemicals that can be potentially harmful for children.
It does not need to be watered so overall turf playgrounds greatly reduce water consumption.
What's more, the plastics used in our turf systems are highly recyclable.
If you have questions about artificial grass for playgrounds, please contact us.