2018 is a very exciting year for us!  We have lots of big projects coming up, new turf programs and vendor events. Here are our events for February.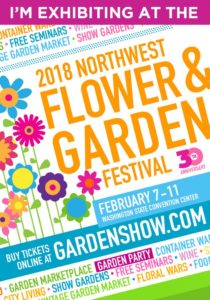 Look for us at the Seattle Flower & Garden show February 7-11, 2018 at the Washington State Convention Center. We are booth #715. Here, you will find a vast array of all things garden related. Looking for the perfect landscaper? Need more ideas on backyard flower arrangements? This is the show for you! Find more information here: Seattle Flower & Garden Show
The following week you can catch us at the Seattle Home Show, February 17-25, 2018 at the CenturyLink Event Center. Find us at booth #1228. This show is mainly geared toward all things home remodel both indoor and outdoor. There will be tons of decorating ideas, latest info on appliances and fixtures as well as providing you with the contractors you have been looking for. Not to mention, every attendee will receive information on seminars and there is wine tasting while you venture around the booths. Find more information here: Seattle Home Show
At both of these events, we will have lots of turf samples, installation information and of course, gorgeous photos of previous installation projects. We will be scheduling free consultations and can provide you with a wealth of knowledge regarding synthetic turf and artificial putting greens. This is also a great time to feel our turf and see it in person. We firmly believe there is no comparison between our American made products and our competitors. 
We will be one of hundreds of booths available for you to peruse, so bring your comfy shoes.  Both of these shows are great for you to gather ideas for your upcoming spring/summer projects. Be sure to have a camera handy as this is the best way to remember all of the ideas you might find.